Nagpur News: Panju Totwani, a reputed name in the field of social work and philanthropy, a youth leader from Khamla and the Founder President of Yuva Kranti Manch of Nagpur, has been conferred with Dalit Mitra Puraskar. The award was bestowed on Panju Totwani by the National Action Forum for Social Justice and was presented by the Union Minister Harish Rawat at the Rashtriya Dalit Chetna Sammelan held in Haridwar. The Dalit Mitra Puraskar comprises Scroll of Honour, Memento, Shawl and Shriphal and was conferred at the hands of the Central Minister Harish Rawat.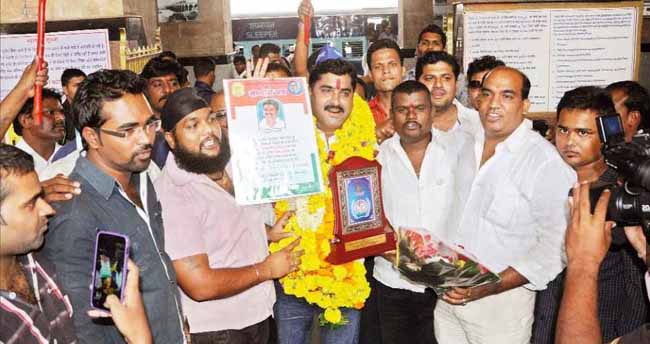 The Dalit Mitra Puraskar to Panju Totwani was the result of his untiring efforts to improve the quality of life and uplift of Dalit community. The services rendered by Panju Totwani in the social work and philanthropy made the Nagpur Unit President of the National Action Forum for Social Justice Madhukar Narnavare and Maharashtra Pradesh Unit President Dilip Hathibade too happy to send his name for the award to the Central National Action Forum for Social Justice which was accepted.
The function was graced by National Action Forum for Social Justice President Nanakchand, former Secretary in Government of India P S Krishnan, Nagpur Unit President Madhukar Narnavare, Amit Pande and others.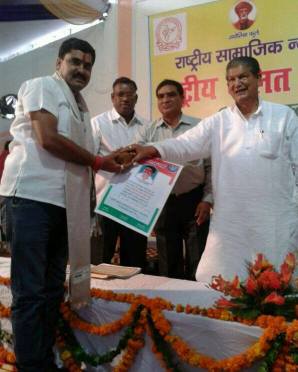 Panju Totwani was accorded a grand welcome at Nagpur Railway Station when he returned to city by Tamil Nadu Express after receiving the Dalit Mitra Puraskar. Hundreds of his well-wishers were present at the Railway Station to greet Panju Totwani. A large number of his associates, well-wishers and supporters including Chaudhary Sir, BJYM City President Bunti Kukde, Mahajan, Ritesh Raut, Ravi Singh Thakur, Surendra Yadav, Parate, Atul Joshi, Amit Pande, Sudhakar Kohale, Suraj Chahande, Prabhakar Sherekar, Anshul Rodge, J P Sharma, Vikas Raut, Amit Harvani, Tinkusingh Digwa, Harshal Nikose, Mayur Ghate, Bhushan Deshpande, Nikhil Chakole, Avinash Tandekar, Nikhil Tiwari, Rahul Mendhe and others have congratulated Panju Totwani for receiving the prestigious Dalit Mitra Puraskar.