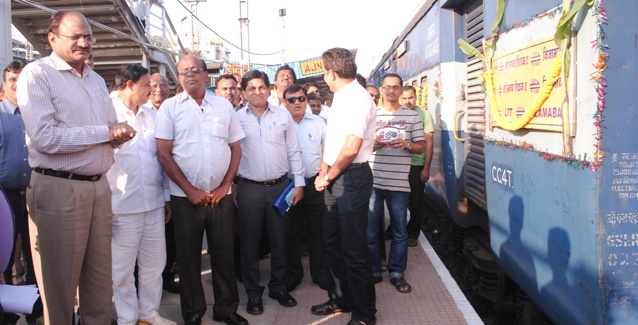 Nagpur News.
The Nagpur citizens went proud and cheerful when the first and new train from Ajni Terminus – Ajni-Lokmanya Tilak Terminus Express — was flagged off for its maiden journey on Friday (November 1). The beautifully decorated Ajni Express rolled down at exactly 1615 hours in the presence of Central Railway's Divisional Railway Manager Brujesh Dixit after the traditional "Pooja" and Coconut Breaking ceremonies. Many other top officials were present on the occasion.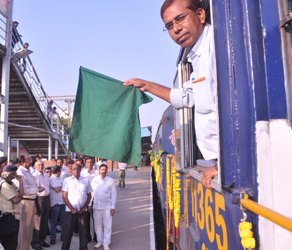 The Ajni Terminus, equally important for citizens like the Main Nagpur Railway Station, created a history of sort when the first new Express Train began the maiden journey. The Weekly Ajni Terminus-Lokmanya Tilak Terminus Express chugged out at 1615 hours on its first run much to the delight of the Orange City citizens. This is the first time the popular Ajni Railway Station, aptly called "Aaple" (Our) Ajni, witnessed the flagging off the prestigious Express Train, hitherto to a stoppage only to dozens of Express trains.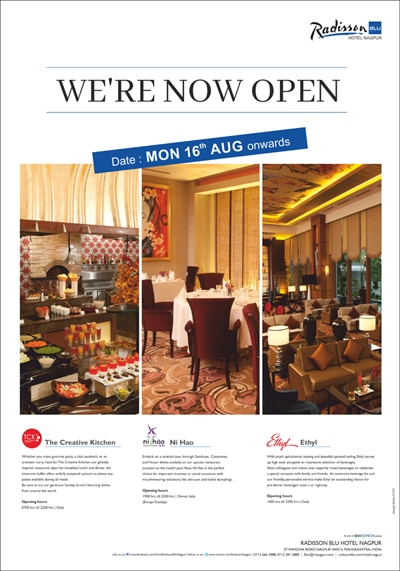 11202 AJNI EXPRESS-LOKMANYA TILAK TERMINUS EXPRESS (WEEKLY):  The train will depart from Ajni every Friday at 1615 hours and will reach the destination Lokmanya Tilak Terminus the next day (Saturday) at 1355 hours. The train will arrive at Wardha on Friday at 1710 hours, and depart at 1713 hours for Pulgaon, leave Pulgaon at 1738 hours, Dhamangaon at 1807 hours and Chandur at 1824 hours.
11201 LOKMANYA TILAK TERMINUS-AJNI EXPRESS (WEEKLY): The Express train will depart from Lokmanya Tilak Terminus on every Monday at 1550 hours and will arrive at Ajni Terminus at 1415 hours on Tuesday. The train will arrive every Tuesday in Chandur at 1127 hours, Dhamangaon 1142 hours, Pulgaon 1149 hours and arrive Wardha at 1232 hours and depart at 1235 hours.
STOPPAGES: Thane, Kalyan, Igatpuri, Devlali, Nashik Road, Manmad, Rotegaon, Lasur, Aurangabad, Jalna, Partur, Selu, Parbhani, Purna, Basmat, Hingoli, Washim, Akola, Murtizapur, Badnera, Chandur, Dhamangaon, Pulgaon, and Wardha.
The train comprises a total of 18 coaches including one II Class AC, 3 III AC, 6 II Class Sleeper Coaches, 6 II Class General and 2 Luggage-cum-Brake Van Coaches.
RESERVATION: Available at all the computerized reservation centres.