Need for a law and guidelines to regulate such shops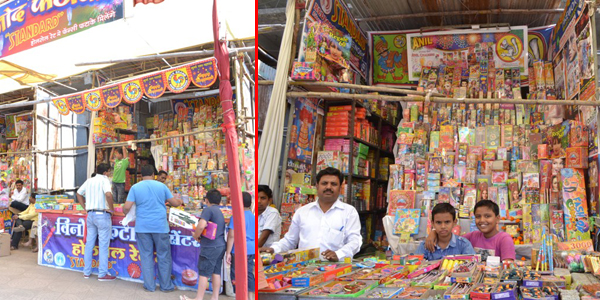 Nagpur Today.
With Diwali in another two days many stalls and shops selling fire-crackers have come up in the city. These shops sell all kinds of fire-crackers and usually have on an average 500 to 800 kgs of fire-cracker material.
Before setting up of a stall, the shopkeeper has to get clearance and permission from many government and local bodies. One has to get the permission and clearance of the police department. Followed by this, one can permission from the explosive department. Once he or she gets that permission, he has to procure permission from the Fire department. After this the person has to get approval of the NMC encroachment department.
After acquiring all these permissions alone can one person set-up a stall.
Once a person gets the permission of the Police and Explosive Department, one has to get permission from the Fire department. When the person approaches to get the Fire department's conditional permission, he or she is advised to set a fire extinguishing unit with a bucket of water and a fire-extinguisher of Class A or B.
Nagpur Today did a random survey of the stalls and shops erected to sell fire-crackers in the city. Nearly 80 per cent shops or stalls had neither a bucket of sand nor fire-extinguisher in the shop.
When enquired, the Chief Fire Officer Rajendra Uchke said that 800 shops have been given conditional permissions. According to the Chief Fire Officer Uchke, there is no mandate that makes it compulsory for the retailer of fire-crackers to have a fire extinguisher. There are no guidelines that exist on what should and shouldn't be there in shop selling fire crackers.
Since there is no law that exists the Local Fire department in order to control probable cases of fire and in public safety interest, has made it compulsory to have a bucket of sand and fire-extinguisher. The CFO also added that it becomes impossible to check all the shops of compliance to their mandate.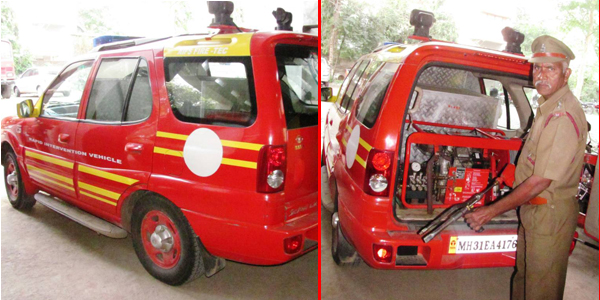 If the fire department has a threat perception of a shop or stall, they have powers to seize the entire goods after conducting a panchanama. He also added that those shops or stalls not adhering to the mandate of the fire department will be blacklisted and will not be given permission the next year.
According to the CFO, the persons who have been given conditional permission to sell firecrackers are given permission to sell only within a shop. But almost most of them have shops extended or completely on the footpath.
The CFO said that, they too had a similar perception and were conducting a check on all the shops and stalls in Central Avenue Road from Agrasen Square to Dharodkar Square. Assistant Commissioner of Police Deogade and Fire Station In-Charge of CA Road area Dharmaraj Nakod were inspecting all the shops and stalls.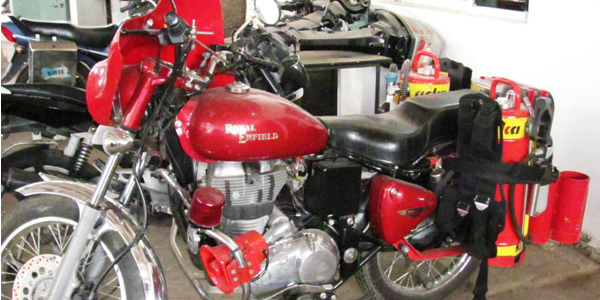 When Nagpur Today wanted to know who will be taking action against the erring shopkeepers, the Police Commissioner K K Pathak said that he is on leave and would have to check the law before commenting anything. The Joint Commissioner of Police Sanjay Sexana said that why should they take any action against those shop or stall owners who are not keeping any preventive measures like fire-extinguishers. According to him, this is the duty of the fire department and they should be taking action against the erring shopkeepers. The DCP Sunil Kolhe too was of the similar opinion. According to an Advocate, the police give permission only on a prescribed form in triplicate with all the instructions including preventive steps along with an affidavit which includes an undertaking that the seller of firecrackers will be responsible for any fire accident and he will take all preventive steps to prevent and fight fire.
If everybody is shifting the onus of preventive steps onto the other department
who is to hold responsible in case of a major fire in fire stall? Does the onus lie on the shop-keeper alone or does it also lie on Fire-Department, Police and other local bodies.
However the fire department is all set to fight any kind of fire anywhere. They have big Fire Engine to fight major fires, an SUV with fire-fighting equipment to fight fire in a lane where only any SUV can go. They also have motorcyles fitted with firefighting equipment to fight fire where only a motorcycle can go.
…Samuel Gunasekharan