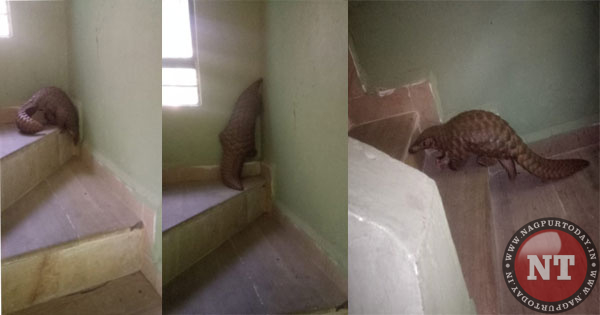 Nagpur: A pangolin of endangered species who strayed from nearby forests in Hingna was rescued from Lata Mangeshkar hospital premises on Thursday night. Monu Singh, President of Vidarbha Sarpamitra Samiti received a call from the hospital that an unidentified animal was spotted near NRI girls hostel in the premises.
As Singh knew that the area is connected to forests, he anticipated the chances of the animal being pangolin as he had rescued the same species from the area few years back.
Talking to Nagpur Today, Monu Singh said, "As I reached the spot, I noticed the pangolin hiding near NRI hostel. I have rescued the scaly animal and would soon release it in Hingna forests after making an entry at Wanadongri forest office."
He said that the scales of this animal are often smuggled to China and it is also believed that wearing a ring made of its scale cure many diseases.
"As the metro works are going on in the area the natural habitat of pangolin has been destroyed on massive scale due to which these species often stray into the human localities to seek shelter", added Singh.