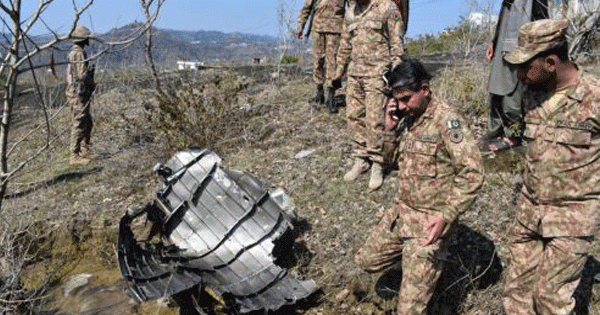 This is the wreckage of the downed Pakistani F16 from yesterdays failed Pakistan Air Force raid into India. The wreckage is in Pakistan Occupied Kashmir. Also seen in picture, released by news agency ANI, is the Commanding Officer of Pakistans 7 Northern Light Infantry.
ANI reports that this picture has been circulating on social media claiming to be the Indian MiG fighter that went down in Pakistan. However, multiple IAF sources told ANI that this is the wreckage of the Pakistani
F-16 downed yesterday.
To bring you up to speed, yesterday, a day after India's air strike at Jaish-e-Mohammed terror camp in Balakot, Pakistan, there was heavy firing across the LoC in Rajouri and Poonch districts.
In the morning, Pakistan carried out multiple ceasefire violations and their fighter jets, reportedly US F-16s violated Indian airspace.
According to reports, the Pakistani jets were forced to retreat after retaliation from the Indian Army. One Pakistani F-16 that violated the Indian airspace was shot down in retaliation by the Indian forces in Pakistan territory in Lam district, Nowshera sector. A parachute was seen as the F-16 went down, however, the condition of the pilot is still unknown, ANI had reported.