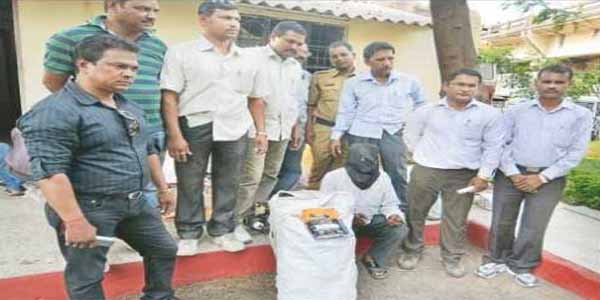 Nagpur News: Pachpaoli Police have arrested a man on the grave charges of preparing fake scented tobacco and packing it in the pouches of branded companies of repute. The arrest was the outcome of a raid on his rented room by the Food and Drugs Administration (FDA). The stuff prepared by the man was very very harmful for human beings.
According to police, the complainant Akhilesh Damodar Raut (36), Inspector, Food and Drugs Administration,     after a tip off, raided the  room of Sadanand Pandhari Patil (60), residing as a renter in the house of Chhaya Milind Sakhre, near Samata Maidan, Lashkaribagh. The raid exposed nefarious designs of Sadanand Patil as he was found mixing inconsumable scented Glycerin Silver liquid and other material with raw tobacco and packing the harmful toxic stuff into empty pouches of branded tobacco companies like Baba, Maza etc. The FDA seized the stock of the harmful stuff worth Rs 41,860.
The Pachpaoli police PSI Rajput booked Sadanand Patil for violating Maharashtra Gazette Notification No. FSSA/777/2013 and under Sections 188, 328 for preparing and selling the toxic stuff harmful to human beings and arrested  Sadanand Pandhari Patil.
The Pachpaoli police are supposed to produce Sadanand in the court today. The FDA, it appears, was neglecting the fact that the bogus and harmful scented tobacco was being sold in the name of branded companies like Baba, Maza and other companies. The FDA raid on Sadanand's rented room also found bidis, cigarettes, "mavas" apart from the scented tobacco in large quantity. The raid was conducted jointly by the FDA and Pachpaoli police under the guidance of Police Inspector Prakash Bele by PSI Mansingh Patil, PSI Rajput, Ulhas Pawar, Rajnarayan Mishra, Umesh Khobragade, Akshay Sorde and others. Police have seized following stock of the stuff: 22 packs of Golden Yug Cigarettes, 16 packs of Baba tobacco, large stock of Desai Bidi and other branded but bogus stuff.
The preliminary investigation revealed that Sadanand was in the bogus business since long. He was arrested four years ago for the same reason of preparing bogus material.