PACE-14 organized at Priyadarshini Indira Gandhi College of Engineering, Nagpur

Nagpur News : Priyadarshini Indira Gandhi College of Engineering, Nagpur organized Priyadarshini Annual cultural event PACE-14 on 28th February 2014 at Vasantrao Deshpande Hall, civil lines, Nagpur. Dr.Satish Chaturvedi, Chairman LTJSS, Nagpur inaugurated the event. Smt.Abha Chaturvedi Secratry LTJSS, graced the occasion as Guest of Honor.
Principal, PIGCE, Dr.Vivek Nanoti had thrown light on the progress of the institute in curricular, co-curricular and extracurricular activities. He read the annual report of the academic session. He praised the beautiful and eventful management during the short tenure of his working in the institute.
Dr. Satish Chaturvedi congratulates the institute on excelling the academic as well as social and personality growth of the students. Felicitation of students, holding university ranks was done by the hands of Dr.Satish Chaturvedi. Singing, dancing & fashion show competitions under PACE 14 were held in Vasantrao Deshpande hall Nagpur.
Singer Abhijeet Kadu, participant of "Gaurav Maharashtra" of ETV Marathi gave special performance during singing competition. Gauarv & Jitesh famous choreographers from Impulse academy Nagpur judged the dance competition. Variety of dance performances were held including salsa, contemporary, classical and many more. Ms.Khushi, Famous bollywood model graced the event & judged the fashion show competition.
Fashion show included mythological theme, buddy round & special theme on AIDS to create awareness amongst youngsters. RJ Rajan from Radio Mirchi 98.3 FM entertained students; overall atmosphere in Despande hall was very overwhelming. Students showcased beautiful blend of different colors of art. Students got a great platform to explore their talent & hidden skills. The event was managed by "Zhankar Events" Nagpur .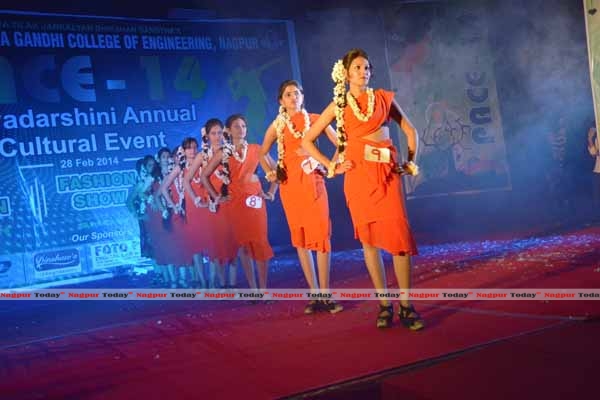 The event was closed by the prize distribution ceremony. Technical, social and cultural competitions were organized under PACE 14 in the college campus. Students actively participated in all the competitions held like poster, rangoli, mehendi,flower decoration & many more.
Dr.R.M.Dhobale, Prof.(Mrs)Malkhandale, Prof.(Mrs)Ghatole & Prof.(Mrs)Dharaskar and Registrar Mr.Sachin khedikar was prominently present at the event. The event in-charge Prof Umesh Akare , event advisor Prof. Virendra Taksande, Competion in-charges Prof. Supriya Jawale, Prof. Ashwini Gawarle, Prof. Pallavi Chavan, Prof Vivek Barwat Prof. Omini Chandekar, Prof. Sachin Marke, Prof.Amit Titirmare, Prof Shruti Roy, Prof. Priyanka Bhusari ,Prof.Tanvi Khobragade,Prof.Snehal Shegaonkar & Prof Sheetal Meshram had taken efforts for successful completion  of the event. Prof.Tushar More, Prof.Vivek Barwat and Prof.Rutesh Lonkar handled publicity of the event.
The sponsors for the event were DINSHAW'S, OZONE AVIATION INDIA, K D INFO SOLUTIONS, KHEDAKAR ASSOCIATES AND CONSULTANTS, and PHOTO PLUS of the city. Student representatives Jayesh, Bittu kumar, Sarang, Sumit, Pushpanjali, Gaurav, and Yogesh strived hard for event coordination.