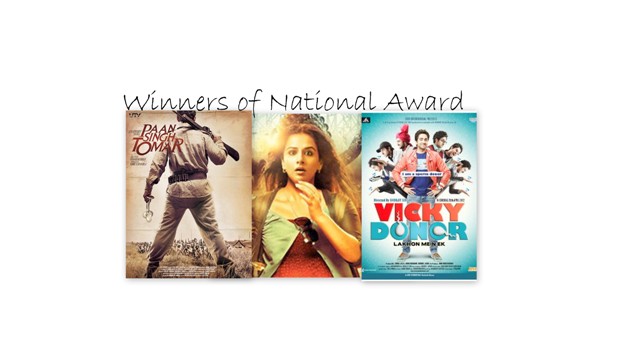 In the season of awards the best awards comes to one in the form of 60th National awards .'Paan Singh Tomar' and 'Kahaani' have emerged big winner at the National awards announced Monday so here are the winners who have been chosen by the National Film Awards jury this year:
Best actor: Irfan Khan for 'Paan Singh Tomar' and Vikram Gokhale for Marathi film 'Anumati'
Best film on social issues: `Spirit` (Malayalam)
Best film – wholesome entertainment: 'Vicky Donor'
Best supporting actor: Annu Kapoor
Best Supporting Actress: Dolly Ahluwalia for Vicky Donor
Best original screenplay: Sujoy Ghosh for 'Kahaani'
Best screenplay (adapted): 'OMG Oh My God'
Best actress: Usha Jadhav for Marathi film 'Dhaag'
Best sound recording: Gangs of Wasseypur
Best actor: Irfan Khan for `Paan Singh Tomar`
Special Jury Award – Actress: Parineeti Chopra for 'Ishaqzaade'
Special Jury Award – Actor: Nawazuddin Siddiquie for four films
Special Jury Award – Film: Rituporno Ghosh for 'Chitrangada'
Best Playback Singer – Male: Shankar Mahadevan for the song 'Bolo Na' from the film 'Chittagong'
Best Playback Singer – Female: Aarti Anklekar Tikekar for Marathi film 'Samhita'
Best regional film: `Vazhakku En 18/9 and, `Eega`
Talking to the press actor  Irfan Khan said, "I am really grateful to the story that came my way." He also added, "Film is not just a business, it has to have a passion. You have to enjoy the part. Connection with the part is important."
On the other hand, actor Siddharth commented on Dolly Ahluwalia's win on Twitter: "My favourite @dollyahluwalia wins best supporting actress national award…genius consume designer. Acting prodigy! Love you dolly ji:)"
Other celebs too expressed their joy thus:
dia mirza ?@deespeak This is what I call DIVINE justice! @ShoojitSircar has bagged 3 National Awards! 2 for supp actors and one for most entertaining film! Yahoo
Nikhil Advani – @irrfan_k congrats and best wishes for the national award. Ab toh ghamasaan celebration hoga!!! #PaanSinghTomar
UTV Motion Pictures ?@utvfilms – congrats @irrfan_k on winning the best actor national award for Paan Singh Tomar. no one deserved it more than you.
Nagpur Today wishes a" BIG Congo" to all the winners' .Yipee!!! It's party time!!!
Yash Raj Trivedi