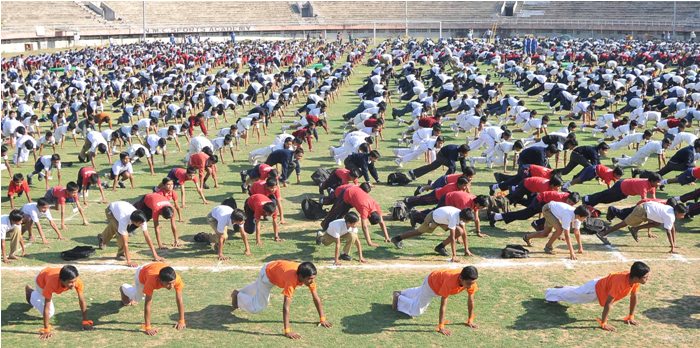 Nagpur news:
To celebrate 150th  Birth anniversary of Swami Vivekanada a  Programme of Mass 'Surya Namaskar' was organized by the 'Swami Vivekananda saarth shati programme committee' in association Nagpur municipal Corporation NMC at Yeshwant stadium ground on Monday morning at 8 am.
Students form various schools and colleges assembled  at Yeshwant stadium ground in morning hours and performed 'Surya Namaskar'. Mayor of Nagpur Anil Sole inaugurated the Programme.
While speaking to 'NagpurToday' Prakash Kapse, organizing secretary of the event  said "around 400 schools including colleges observed 'Surya Namaskar' at 16 different places of Nagpur from 8am to 9am . In similar ways 13 'Surya Namaskar 'have been performed by at least 1.5cr people in 15000 different locations of the country between 8 am to 9am on monday."
"It is beneficial to practice Surya Namaskar  early in the morning . The early morning sunrays are rich source of vitamin D that is necessary to get strong and clear vision." Said the girls students of Shivaji Science College Rashmi Sharma, Pallavi Jain, Monica Madavi , Jyotsana Shivatra, Megha Bhoyar, Suchitra and Harshvitra  who had come to observed the Surya Namaskar at yeshwant stadium.
"Surya Namaskar is the ideal exercise to cope with insomnia and related disorders. It calms the mind  and helps to get sound sleep." said a teacher at the venue.
Many girls and women also performed Surya Namaskar at Seve sadan and RPTS  Ajni . Handicapped children too performed Surya Namashkar  at Vidya vihar, Pratap nagar,  informed Prakash kapse. He also added that a grand shobha yatra was organized on 12th January to commemorate  Swami Vivekanada's 150th  Birth Anniversary.