Administration is sweating hard as the Prime Minister himself is coming to open first phase of Nagpur-Mumbai Expressway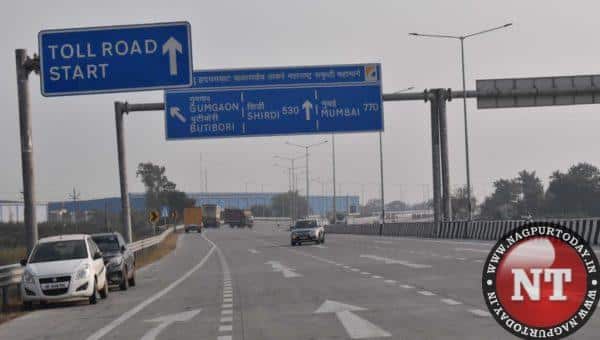 Nagpur: After much delay and postponing of several dates, now finally the first phase of prestigious Nagpur-Mumbai Samruddhi Mahamarg will be inaugurated by Prime Minister Narendra Modi on December 11.
Since the Prime Minister himself is coming, the administration has gone on alert mode and sweating hard and the preparations are in full swing for the high-level opening ceremony. The section between Nagpur and Shirdi on the Nagpur-Mumbai Expressway will be inaugurated by Prime Minister on Dec 11 on the outskirts of the Orange City. But the administration is facing a big hurdle in the form of Outer Ring Road, reports said.
According to a report, the work of Outer Ring Road has been hit and going at snail's pace mainly due to the laggard working by the contractor companies. Looking to the tardy progress of the Outer Ring Road, the completion is likely to take much time. Earlier in the first phase, the work order of the company was cancelled and another company was assigned the project. But this company also followed the "tradition" of slow progress, the report added.
The 701-km expressway, also known as the Hindu Hruday Samrat Balasaheb Thackeray Maharashtra Samruddhi Mahamarg, will be the first green highway with the facility of a helipad for air ambulance. However, the work of this Expressway was going at tardy pace in the past decade and nobody cared. At many places, the work is incomplete. Now, as the Prime Minister is going to open the Samruddhi Mahamarg, on the other hand, the work of Outer Ring Road is in cold storage.
Previously also, some deadlines were announced for completion of the work on Nagpur-Shirdi stretch. UddhavThackeray, the erstwhile Chief Minister, had taken a drive on a stretch of Samruddhi Mahamarg. However, inauguration of this stretch got postponed. Later on, while the expressway was being decked up for inauguration, an accident happened and the inauguration got deferred again. Now, December 11 has been finalised as the date for inauguration of Nagpur-Shirdi stretch of Samruddhi Mahamarg.
CM, Deputy CM to visit Samruddhi Mahamarg on Dec 4:
Before the Prime Minister's visit on December 11, the Chief Minister Eknath Shinde and Deputy Chief Minister Devendra Fadnavis are paying a visit to Samruddhi Mahamarg. Both the leaders would review work of the Expressway and preparations for Modi's visit. At Waiphal Toll Post, a high platform is being built for the inauguration programme.