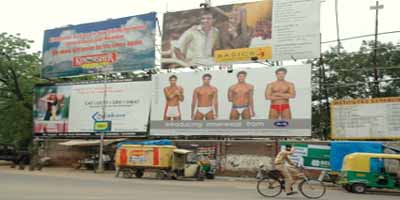 Nagpur News : Outdoor Advertisement Policy was designed by then Estate Officer Kedar Mishra in 2001 under former NMC Commissioner T Chandrashekhar. Giving importance to the policy, Standing Committee Chairman Dayashankar Tiwari said that the policy would be helpful in increasing revenue of Nagpur Municipal Corporation and it would be implemented soon.
Addressing a press conference after Standing Committee meeting on Thursday, Tiwari said that for proper functioning of policy, a proposal for committee has been passed. With introduction of this policy, NMC is expected to get profit of 4-5 crore. He said that it was sad that the implementation of this policy took 12 years. Earlier, the issue was discussed with many businessmen and other companies in city and thus, the agenda of this policy was proposed in Standing Committee meeting, he said.
According to information, the policy maker Kedar Mishra is currently working in Water Works Department. Instead of hiring Kedar for the policy, NMC has handed over the responsibility to an officer who is unaware of the details and will have to go through the policy details in depth to understand the ins and outs of the policy. The officer will take 3-4 months to understand only the advertisement details of the policy. So, implementation may take a longer than expected time.
Tiwari also said that Nandangram scheme spread over an area of 48 acre has been given a green signal. According to this scheme, around 5000 cows and buffaloes will be taken care of. Procedure for which is has already been sanctioned from Town Planning Department. Only approval of Estate Department needs to be taken. During the meeting, a proposal to sanction Rs 50 lakh for mosquitoes killing machines has also been proposed. One machine can cover 1 acre land area. The decision is held till the approval for Malaria Department.
No resignations from Cong members of Standing Committee
The Congress workers in Standing Committee have not given their resignation until now. There is chaos regarding forthcoming Standing Committee elections. The procedure for election of 16 member committee has started last week. Eight members have remained intact through draw system. While eight members were shown exit door from the committee. BJP is working for election of most of its candidates. While independent and alliance candidates are also in queue. Following the rule, all the members of Standing Committee have already submitted their resignations before the draw system, but two members of Congress have not submitted their resignations. Standing Committee chief Dayashankar Tiwari has informed that Lokmanch member Rahu Thool also will submit his resignation soon.