A variety of citizens lovingly call Nagpur or Orange City or Second Capital Our City, and the city, too, welcomes all and embraces them with its caring hands who need its shelter without discrimination vis-à-vis caste, creed, religion. All citizens of different communities of Great Nagpur live in harmony, peacefully, sharing happy and sad moments with each other.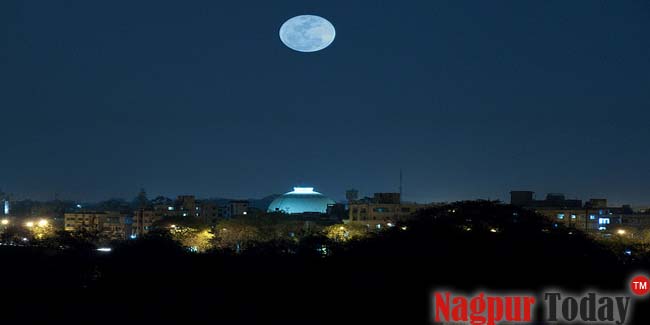 Nagpur New:  "A great city is that which has the greatest men and women."
NAGPUR: A Sweet Home for Maharashtrians. A Sweet Home for Bengalis. A Sweet Home for Tamilians. A Sweet Home for Punjabis. A Sweet Home for Gujaratis. A Sweet Home for Marwaris. A Sweet Home for Sindhis. A Sweet Home for Muslims. A Sweet Home for Hindi Siders. A Sweet Home foe Keralites. A Sweet Home for Andhraites. And a Sweet Home for all Indians. Nagpur: A place of Oranges. A residence of Sun God. A favourite place of Gods, Goddesses, Gurudwaras, Dargahs, Deeksha Bhoomi.
The Great Nagpur City could be defined by its proud citizens in their words of Love, Emotions, Sentiments, and Anger, too. Nagpur welcomes and embraces with its caring hands to all who need its shelter without discrimination vis-à-vis caste, creed, religion. All affectionately call it Our City.
The citizens of all communities live together with harmony, peace, and helping hands. Very very few people have made their Nagpur a city of crime. But the city or the Second Capital forgives them with a great heart (Geographically also Nagpur is heart of the nation) since the Orange City knows very well "Every city in the world always has a gang, a street gang, or the so-called outcasts." But Nagpur citizens, particularly the women and girls, have been in a very angry mood as the anti-social elements have made their lives miserable by targeting them with various heinous crimes.
Now, since the Nagpur Municipal Corporation (NMC) has been observing its 150th centennial celebration in majestic moments, let us go to era as how Nagpur was born.
·         Since the city was based at the shores of stream called "Nag" thus the city was named Nagpur like a baby's naming ceremony. There is also a mention of the city in Vedik and Mourya Shastras (Scriptures).
·         Nagpur was first civilisesd by Devgad King Bakht Bulandshah in 1703. The King honourrd the city with the first capital status.
·         King Bakht Bulandshah's heir Chand Sultan constructed 3 mile long wall along the Nag river.
·         In 1743, the first Raje Raghiji Bhosale made Nagpur main centre for his state of affairs.
·         The Britishers captured Nagpur by defeating Appasaheb Bhosale in the battle fought in Sitabuldi in 1817.
·         The Britishers constructed a fort on two hills in the central location of Nagpur in 1818 which is known as Sitabuldi Fort.
·         The Nagar Palika was set up in Nagpur in 1864. Initially cleaning works, streetlights, markets, education was carried out through Government funds. At that time area of Nagpur was spread across 15.5 square kilometers and the population was 82,000.
·         The first steam train in Nagpur started running in 1867.
·         The "bhoomi pujan" (Ground breaking ceremony)for construction of Vidhan Sabha in 1912.
·         Sir Patrick Gedes toured Nagpur for a systematic development of Nagpur in 1915.
·         For smooth functioning  of Nagar Palika, the "Madhya Prant and Varhad Adhiniyam" popularly known as  Central Province and Berar Rules (CP& Berar) were made in 1922.
·         Nagpur University came into being in 1923.
·         Sir Len Brown constructed the main gudder line (Sewage line) in 1936.
·         Nagpur Improvement Trust (NIT) came into existence in 1937 for proper town planning.
·         Dr Babasaheb Ambedkar made a personal visit to Nagpur Nagar Palika on July 19, 1942.
·         Flights began in Nagpur 1947.
·         Nagpur was declared Capital city of Madhya Pradesh in 1950.
·         Dr Babasheb Ambedkar along with 5 lakh Dalit brotherhood embraced Buddhism by taking "Diksha" (literally means acceptance of religion).
·         The Britishers had announced Nagpur as capital of Madhya Prant since 19th century that remained till 1956.
·         The Nagpur Nagar Palika was turned to Nagpur Municipal Corporation on March 2, 1951.
·         In 1953, a framework for Nagpur's all out development was prepared for the first time.
·         In 1956, during formation of two states the Mahakoshal was included into Madhya Prant and Varhad went to Maharashtra. Resultant, Nagpur lost the capital status ans was given the status of Second Capital. Bombay (Mumbai) was made the capital city. The second capital status to Nagpur was announced in 1960.
·         According to Nagpur City Municipal Corporation Act 1948, the responsibilities of providing basic amenities was thrust on the Nagpur Municipal Corporation like water supply, sewerage lines, improvement of slums, planning of available lands, construction, maintenance, repairs  of internal roads, streetlights, parks, gardens, their maintenance, and education facilities.
·         Gond Raje built big forts in Nagpur. Now the area is known as Mahal Killa Ward.
·         Raje Chand Sultan, son of Gond Raje, built Jumma (Shukravar) tank in 1725 which is now known as Gandhi Sagar.
·         The biggest covered market in Asia the Fuley Market in Nagpur was constructed in 1968.
·         The Yashwant Stadium was constructed in 1983.
·          Roads under NMC were of 74 miles (124 kilometers) in 1950
1)      Gitti (small stones) roads: 50 miles
2)      Cement concrete roads: 2 mile 7 furlong
3)      Tar roads: 7 mile 7 furlong
4)      Bolder roads: 13 mile 6 furlong
·          34 villages along Nagpur borders were brought under NMC on May 11, 1950. Recently, Narsala and Hudkeshwar villages were merged with NMC.
Comparative table of various types roads:
Type of roads            1950               1963                2012-13
Gitti roads                80.50 km         86.25 km          57.28 km
Cement Roads         3.5 km             12.90 km          94.318 km
Tar roads                  12.40 km         172.35 km        2429.92 km
Total                          120.00 km       328.00              2682.024 km
Streetlights during Bhosale regime
·         After sunset a cannon or howitzer was used to be fired signaling "curfew".
·         Transactions were allowed till sunset.  Nagpur used to be under total darkness.
·         People used to make their own arrangements of light like lantern.
·         Cannon firing stopped during British regime. People got freed to stroll even after sunset.
·         When plan to set up Nagar Palika in 1964, the facility for streetlights was also included.
·         Streetlights was and agenda in the meeting of Nagar Palika held on February 16, 1865.
·         There is record the first kerosene streetlight was functioning in June-July in 1865.
·         A member of Nagar Palika Bees recommended kerosene lights in all police stations in Nagpur.
·         Although oil, lights, were brought from London, the streetlights not worked even after arrival of oil, lights from London.
·         Nagar Palika suffered loss of Rs 3000-4000. The streetlights plan was dumped after a Nagar Palika meeting held on September 11, 1867.
·         Nagar Palika used to spend Rs 50-60 on streetlights till 1882.
·         In 1885, a decision was taken to install streetlights and Rs 2000 were spent on erecting poles in 1886.
·         During 1902-03, communications with Crompton Company in London on trams and electric lights in Nagpur started.
·         In 1908, Crompton Company informed of no capital and Nagar Palika should bear half capital or Nagpur citizens should make arrangements so that power generation plant could be started.
·         Crompton Company started power generation on November 12, 1913. Same day 419 electric streetlights were installed.
·         On one hand Crompton Company was making efforts increase streetlight charges and on the other hand, Nagar Palika was making efforts to provide facility at cheap rates.
·         No bill payment was made by way of meters at that time also.
·         Company issued notice and cut the power supply on July 4, 1958.
·         Nagpur was under dark for three days. Palika moved High Court. The High Court ordered power supply and directed the Company to submit complaints to a Tribunal.
·         MSEB took the responsibility of streetlights in 1972 and the of streetlights went 14,642.
·          Till 1994, when MSEB was looking after the streetlights, many complaints were lodged.
·         In 1994, the maintenance and repairing of streetlights in Gandhibagh Zone was handed over to NMC for the first time.
·         For the first time, 50 watt sodium vapour lights were introduced in India and that in Nagpur first.
·         All branded companies like Philips, Crompton, Bajaj, Surya, Wipro, GE responded to NMC's EOI and started manufacturing of 50 watt streetlights for NMC.
·         The use 50 watt lights instead of 70 watts resulted in saving of 28 per cent of power.
 …. Anil Rotkar