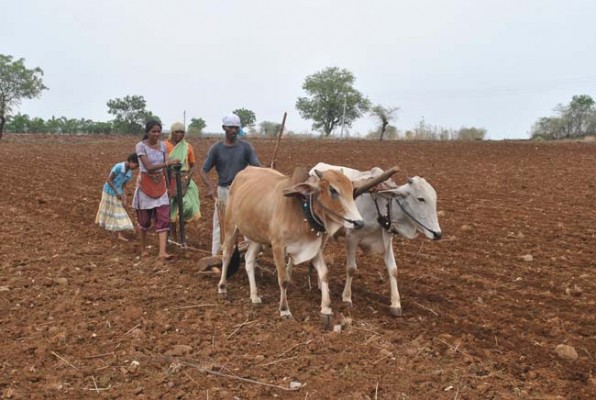 Nagpur News: "Coming together is a beginning; keeping together is progress; working together is success."
How true are the words could be described by the great success some farmers achieved with an united vision.
The success story deals with 18 farmers of Hingna in Mauda Taluka of Nagpur District. The 18 farmers, with a common understanding, gave birth to a new success mantra. First they created a common group. The group has about 30 acres of farm land. The farmers, previously farming paddy (rice), decided to go for cash crops like vegetables and fruits.The 18 farmers, under the able guidance of Agriculture Department, utilized latest technology and "sankarit biyane" (Hybrid seeds). The outcome was outstanding. The farmers reaped a rich harvest and subsequently, speedy financial growth. This is the successful tell tale of a vision.
The 18 farmers, as a first step gathered money unitedly and collectively purchased bed maker, press roller, seeds, fertilizers, and other related material needed for farming of various vegetables and fruits. The collective purchase saved a lot of money for them. And after considering land slide, distance between saplings they installed sprinklers and succeeded in required watering to the crops.
The chili and other vegetable crops are inflicted damage by various insects and viruses. Insects are responsible for two major kinds of damage to growing crops. First is direct injury done to the plant by the feeding insect, which eats leaves or burrows in stems, fruit, or roots. The farmers sprayed different types pesticides for different kinds insects thus "killing them on the spot." The farmers nursed the saplings and crops with a care like a mother cares her sibling.
The 18 farmers took the harvest of chili in great magnitude and sold the chili crop in Ramtek and Delhi markets. The net income was of Rs 2,80,000 per hectare. Similarly, the harvest of brinjals and tomatoes per acre was reaped with 30 tons and 15 tons of watermelon harvest per acre.
The success story triggered a keen interest among Agriculture Officers and trainees who visited the farms of the 18 farmers and talked with them particularly of the grand success and guidance. The World Bank representative Paul Singh Siddhu, who is also associated Maharashtra Government' s Water Conservation Department, and his team, Nagpur Division's Agriculture Deputy Director, Project Director Atma, District Superintendent, Agriculture Officers, and Sub-Divisional  Agriculture Vanamati Nagpur,  officials from other states, media, also visited the farms of the 18 farmers and heaped accolades for excellent success and the vision to achieve the glory.
This is not only a success story. This is a fruitful message to all farming community. The message is: The farmers themselves alone could prosper on all fronts. The only need is of vision. Vision of unity, vision of hard work, vision of utilizing the latest technology. Then the success, prosperity, green future are not far away wherever this mantra is implemented in the best way.