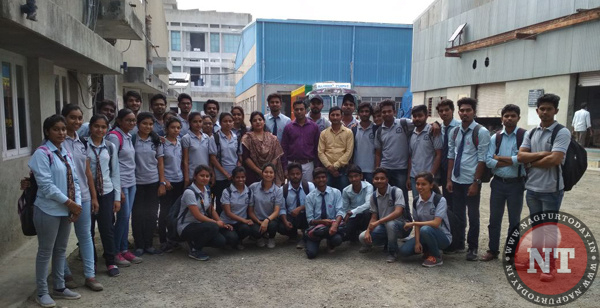 Nagpur: A one day Industrial visit to well esteemed plant ABC Polymer Ltd, Nagpur is organized for the students of Third Year B.Tech. Chemical Engineering of Priyadarshini Institute of Engineering & Technology, Nagpur. ABC Polymer Ltd. Industrial unit is located in MIDC, Wadi-Hingna Road, Nagpur region. This visit is organized successfully by Prof. Er. Kiran Bhuyar Coordinor, industrial Visit & CHES & Prof. Rashmi Nimbalkar, Asstt Professor, Dept. Of Chemical Engg., PIET, Nagpur.
Such industrial visits gives exposure to the students about industrial environment. Dr. Sudhir Bhuyar R & D Manager ABC Polymer and explain details about how quality should control through research and development work which plays important role in any industrial growth. During this visit, students get aware about industrial sections like transportation & handling of raw material, production unit, R & D section, marketing section etc.Er. Shirish Yerawar, General Manager and Ashwin Bhure, P&A officer helped to permit this visit at plant.
All the students 3rd Year Chemical Engg. were present to this visit. The visit is organized as part of Chess activity. Dr. S.K.Deshmukh Head, Chemical Engg. & Dr. V.M.Nanoti were appreciated the efforts of Prof.Kiran Bhuyar to make this visit very successful. Management of LTJSS has fully supported this industrial exposure.