One by Two : Urban Diaries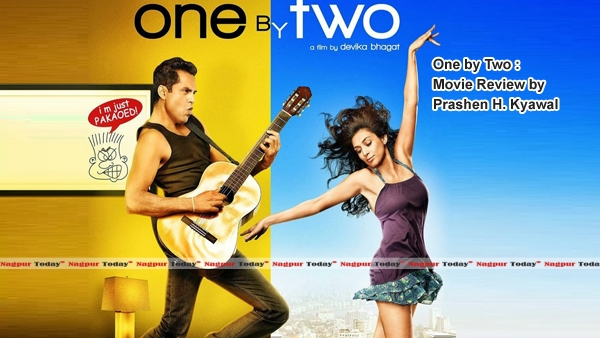 One by Two has two parallel stories running side by side (many times literally shown by split screen). Amit Sharma (Abhay Deol) who works as a project manager in an IT company. He is recently dumped by his girl friend Radhika (Geetika Tyagi) who moves on in life with her new boy friend Ranjan Sadanah (Diwakar Pundir), who is a dance reality show producer. But Amit does not move on and wants Rahika back in his life. Amits's colleagues and friends Anika (Preetika Chawla) and Mihir (Tahir Bhasin) always try to get him out of this idea.
In parallel happens the story of Samara Patel (Preeti Desai). She is a western dancer who is in casual relationship with her dance group leader Jonathan (Yudhishtir Urs). She too breaks up with him when he ditches her as lead dancer of the group and selects someone else. She lives with her mother Kalpana (Lillete Dubey) who is an alcoholic and needs Samara to take care of her. However, after Samara lives the dance group and decides to participate in Dance Reality show "Dance Wars", Kalpana keeps her motivated.
When Amit knows that his ex Girlfriend Radhika's boyfriend Ranjan is producer of "Dance Wars", he makes a plan to hack into the voting system of the show and rig the results to make deserving candidates losers and vice versa. By doing this he wants to reduce the TRP of the show which can result is getting Ranjan hacked. He thinks this way Radhika can come back to his life.
Amit hacks the system with his friends and due to that Samara, who is supposed to win, looses the show. Show TRP decline and Amit succeeds in getting Ranjan out of the show. However, Radhika rejects him again saying he is the most boring person she has ever meet. However, she herself comes back to him to accept her after he becomes famous due to a coincidence.
What that coincidence is? How Amit becomes famous? What happens Samara? Do they ever meet? You can know all this when you watch the movie. The question is, shall we watch it?
This story and screenplay by Devika Bhagat is like urban diaries of 2 different persons who live in a city and happen to cross each others life many times without actually knowing it. The screenplay has many sub plots like that of Amit's Mother Meenu (Rati Aghnihotri) trying to get him married with a plum Shishika (Yashika Dhillon), Samara's father's (Anish Trivedi) behaviour with her mother. Then that of a B Boying Dancer Bunty (Netrapal He-Ra Singh) who meets Samara on Dance Wars and that of Amit's poet uncle ACP Dhawan (Darshan Jariwala), etc. These sub plots does not help take the story forward. The main stories strictly run parallel and the lead actors do not actually meet each other for a lot longer bit that you would expect. So we can only assume that Devika only wanted to show urban diaries of two people. The film has an open ending or scope of sequel (which shall not be made). Devika has also written the dialogs with Manoj Tapadia, which does to help in the film anyways.
Devika again takes the mantle as Director of the film and do not show much potential here too. Rather than the main story, Devika somewhat succeeds in portraying the relationships of Amit and his friends, Amit and his mother, Amit and his Uncle, Amit and his arranged marriage would be bride, etc. Barring that the movie is a drag and convoluted tale of urban people which is not narrated in an entertaining manner. Editor Shan Mohammed despite excelling in technically weaving the two stories together, could not save the film as the writer and Director was unsure of what she wanted to say.
Cinematography by Sameer Arya is glossy and glamourous. Production Design by Mustafa Stationwala is good. I must applaud the attention to detail in using ubuntu desktop on the computer screens (considering Amit manages forums and is a hacker). Music by Shankar Ehsaan Loy is average without any chartbusters. Choreography by Ashley Lobo is frustratingly bad considering dance and dance acts form major portion of the film. It is a total lost chance in that department.
The best part in the film is brilliant performances by the supporting cast like Rati Agnihotri, Darshan Jariwala, Lillete Dubey, Yashika Dhillon, Tahir Bhasin and Preetika Chawala. Abhay Deol's earnest effort could not salvage the film as he does not get to show any other expression than boredom in most part of the film (which is induced in the audience too). Preeti Desai as Samara does not impress at all. She is said to be trained dancer but does not get to show her skills due to shoddy choreography. Overall casting by Panchami Ghavri is a hit and miss case. Great example of Miss case is B Boy Netrapal He-Ra Singh as Bunty.
Overall it is a yawn inducing movie which makes us "pakawoed" like Abhay Deol is in the movie.
Rating :
Recommendation : If you want to sleep, why to buy ticket and go to theatre. SKIP!