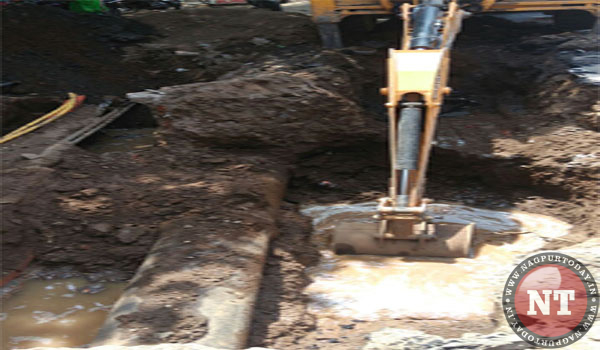 Nagpur: NMC-OCW have planned to interconnect Pench IV feeder line to 700 MM Dia. Laxmi Nagar Feeder line near Jatashankar Temple, WCL HO office on April 13. For this, it is required to take 12 Hrs. shutdown of Laxmi Nagar Feeder from 10:00 a.m. to 10:00 p.m. on 13th of April 2018 (Friday).
Water supply will remain affected in Civil Line DT, IBM DT, Ram Nagar GSR and Laxmi Nagar Old ESR which are on LaxmiNagar feeder main on April 13.
The areas to remain affected following 12-hour shutdown are:
Civil Line DT: Civil lines,Marim Nagar,Ravindranath tagore road,VCA Road, Palm Road, Government Press
IBM DT: Ravi Nagar, Telangkhedi Hanuman Mandir Area
Ram Nagar GSR: Giripeth, Trikoni Park, Ram Nagar Sq. to Laxmi bhavan Sq., Gokulpeth, Khare Town, Shankar Nagar, Gandhi Nagar, Shivaji Nagar, Dharampeth, University Library Quarters, Law College Sq., Ambazari
Laxmi Nagar Old ESR: Anand Nagar, RBI Colony, VNIT Campus, NIT Layout, Tatyatope Nagar, Laxmi Nagar (East Side of 8 Rasta Square Areas), Laxmi Nagar (East Side of Laxmi Nagar Square Areas), Vasanth Nagar, Rahate Colony, Bajaj Nagar, Laxmi Nagar Sweeper Mohalla, Laxmi Nagar Slum, Madhav Nagar, Pratap Nagar Few Parts, Atre Layout, Abhayankar Nagar, Laxmi Nagar South East Areas of 8 Rasta Square, Laxmi Nagar RPTS Road, Shivsahil Apartment, Laxmi Nagar, South Ambazari Road, JP Chamber Apartment, Friends Colony, RPTS Colony, Mayor House Laxmi Nagar Buti Layout, Dhangarpura, Atre Layout around Datta Meghe Collage Area, Shraddhanandpeth, Dongre Layout, P & T Colony, Gittikhadan Layout, NIT Colony, Postal Audit Colony, Income Tax Colony, Kotwal Nagar, Public Cooperative Housing Society, S E Railway Colony.
The inconvenience caused to the citizens due interconnection work is highly regretted.
Toll Free No: Citizens can make any water related query, complaints at OCW on a Toll Free Helpline- No 1800-266-9899