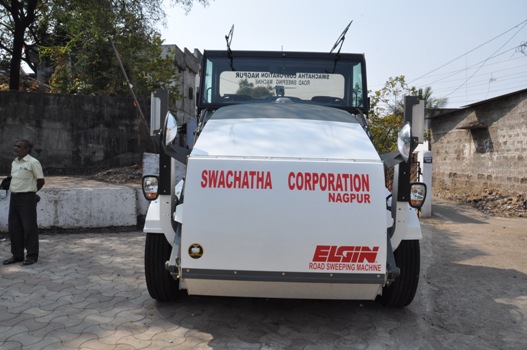 Nagpur News.
The octroi department in Nagpur has imposed a fine of Rs 31 lakh on Swachhata  Corporation, a private agency looking for cleanliness works, for evading octroi on its road cleaning machine brought to the city. However, Swachhata Corporation was yet to comply with the orders. Prashant Ratkantiwar from Swachchate Corporation has reportedly tendered an apology in this regard and also requested to waive off the penalty.
The octroi department had caught the machine with duty not paid on February 23 near Veterinary College.
Assistant Commissioner, Octroi, Mahesh Dhamecha informed that the cost of the concerned road cleaning machine is Rs 78 lakh. The mandatory octroi for bringing it into the city is 4% i.e. Rs 3.14 lakh. The vehicle was being operated under NMC's health department without paying any octroi.
The owner of Swachhata Corporation was said to be having strong connect with an influential MLA and for this reason he was able to avoid action against it several times.
The octroi department had however seized the machine and handed it over to a security agency working under NMC.
Meanwhile, Ratkantiwar wrote to octroi department expressing his willingness to abide by the law. He reportedly offered the department to bring the machine wherever the department wanted him to. The department head later instructed him to park the machine fitted vehicle at octroi check post no. 10. Ratkantiwar brought and kept the machine at the said check post on February 26. He also appealed for getting the penalty waived off.
Later Swachhata Corporation also deposited one-time octroi of Rs 3.14 lakh.  As per rules, the company has to pay remaining penalty amount of Rs 28 lakh. Sources revealed that matter would be soon put up before NMC Commissioner Shyam Wardhane for consideration. If he relents, then the penalty would be reduced by 50 percent. If it happens owing to political pressure then other defaulters would also press for extracting similar relaxation.
Seized truck of Chouksey to be auctioned in a week
Dhamecha informed that the seized truck belonging to Gopal Chouksey would be put on auction within a week's time. But if NMC commissioner becomes lenient in the case of Swachchata Corporation then Chouksey may also look up for relief.