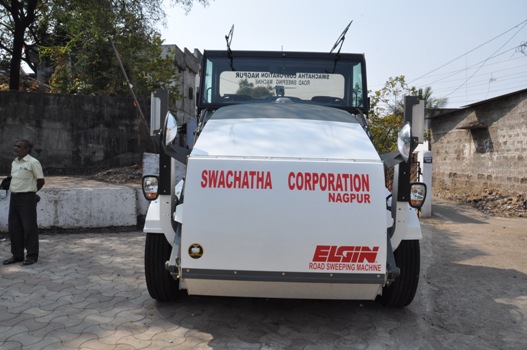 Nagpur News:
The giant road cleaning machine that just vanished in thin air and was nowhere to be found, was finally recovered on the way between Veterinary Square and Surendragarh road here on Friday. The operator of the machine is still missing. Cops took the machine in possession in full security and awaiting the arrival of the operator. When the operator turns up, the machine will be taken to Check Post No. 13 and will be released only when Swachhata Corporation Director pays 10 times penalty for the machine.
According to information, Octroi Department has finally acted stern on octroi thefts, and has slapped 10 times penalty for evasion of Octroi rules on a road cleaning machine owned by 'Swachhata Corporations'. Talking to Nagpur Today, Mahesh Dhamecha, Deputy Commissioner (Octroi Department), said that the road cleaning machine gained entry in city limits a few couple of months ago. When the officials caught the machine operator and asked about the details and papers of the machine, he informed the cops that octroi has already been paid and the machine was now under NMC Health Department. He informed the cops that documents were not with him but he would submit all the documents the next day in the Octroi office. But, the machine operator did not turn up the next or even the second day.
On the third day, Director of Swachhata Corporation paid the single time octroi for the machine. After investigation, octroi department officials were surprised to know that the machine was no more with NMC Health Department and that the machine was missing.
According to sources, Octroi Department couldn't take any action against Swachhta Corporation seeing some political involvement. However, media has already reported involvement of chairman of Octroi Consultative Committee Kishore Dorle in the octroi scam which was officially confirmed by octroi official Sanjay Kadu.