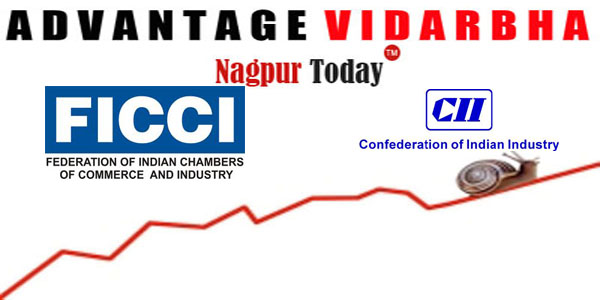 Nagpur News.
The final stage preparations are going on at war footing level to mark what is dubbed as the largest event to promote industries in the region. Advantage Vidarbha – a two day event to be held in hotel Centre Point at Ramdaspeth in Nagpur would witness over 350 industrialists from across the country. A detailed discussion regarding industrial expansion in various districts of Vidarbha would be taken up in the conference.
A blue print regarding various industrial projects have has also been prepared.
In a press conference organized at Hotel Centre Point, District Guardian Minister Shivajirao Moghe informed that the state's Chief Minister Prithviraj Chavan, deputy Chief Minister Ajit Pawar, Union Heavy Industries Minister Prafull Patel, State Industries Minister Narayan Rane, Agriculture Minister Vikhe Patil, Cooperative Minister Harshwardhan Patil, Minister for Textile Industries Naseem and the Guardian Ministers of the districts in Vidarbha would be present on the inauguration of Advantage Vidarbha.
Top industrialists including Tata Group CEO Cyrus Mistry, Gautam Singhania of Raymonds, Sajjan Jindal of Jindal Steels, Rajeev Vaishnav of Nasscom and Ghadiyali would be prominently present in the event. Besides, Chief Managing Directors of BHEL and Maruti Company would also be participating in the programme.
Moghe informed that first day would be the discussion session during which detailed talks would be conducted on various textile industry, automobile, minerals and energy machineries. In the evening specific department officials would remain present to discuss on the specific projects. A dinner has also been hosted by the Chief Minister on the first day.
On February 26, there would be next round of discussion comprising agriculture, food processing, information technology, medicines, logistic and tourism sectors.
The delegation of industrialists would also visit Butibori industrial area for both the days.
The MoUs pertaining to the investment of around Rs 14,000 crore is expected to be signed between the industrial groups and the government.
These mainly include MoUs concerning expansion project of Ambuja Cement along with the companies like Amba Iron, Hindalco, Prithvi Ferro etc.
An institution named KPMG has been made knowledge partner of the event while Federation of Indian Chambers of Commerce and Industry (FICCI) is providing special support for the event. MIDC, MTDC, Cidco and Mhada are also supporting Advantage Vidarbha.
Moghe said that there is ample scope and space for industries in Vidarbha. The region is already popular for its handsome yield of oranges, cotton and other agricultural produce. He said that there is immense potential in the region for development in agriculture sector.
Munna Ojha and Jitendra Moghe were also present in the press conference.
Officials playing spoilsport
The officials relating to the organizing of event are quite reluctant to make the necessary support system for the success of Advantage Vidarbha. Despite the whopping budget of Rs 1 crore earmarked for the event, the officials seem to be hitched in spending the amount. This has created great deal of hurdle in generating resources for Advantage Vidarbha.
Generous face of Guardian Minister
The man behind the ambitious event Advantage Vidarbha Shivajirao Moghe who is also the state's social justice minister wants the event to be successful no matter what it takes. He came out openly saying that take the credit or importance whatever one wants but the event should have to be successful for the betterment of the region.
---
Advantage Vidarbha 2013
Inaugural Function
Minute to minute schedule
9.40 a.m.                     Movement from VIP lounge to the dias
9.45 to 9.50 a.m.         Welcoming by giving floral bouquet
9.50 to 9.55 a.m.         Welcoming address by Principal Secretary (Inds.)
9.55 to 10.05              Address by Chairman, FICCI – Maharashtra State Council.
10.05 to 10.20            Theme presentation by Mr. Pradeep Udhas Head of Markets, KPMG.
10.20 to 10.30             Keynote address by Mr. Narayan Rane Hon. Minister (Industries)
10.30 to 10.40             Special address by Mr. Praful Patel Hon. Minister for Heavy Industries. Govt. of India
10.40 to 10.50             Signing of MoUs (list under finalization)
10.50 to 11.10              Address by Mr. Prithviraj Chavan, Hon. Chief Govt. of Maharashtra
11.10 to 11.15               Vote of Thanks by Mr. Praful Doshi President, Vidarbha Industries Association.
Advantage Vidarbha 2013
Valedictory Function
Proposed draft of Minute-to-minute schedule.
---
26th Feb, 2013 Venue:- Hotel Centre Point, Nagpur
4.15 p.m.                 Movement to the dias
4.15 – 4.20             Floral Welcome
4.20 – 4.25             Welcome address by Shri. Bhashun Gagrani Chief Executive Officer, MIDC.
4.25 – 4.35              Summing up by KPMG
4.35 – 4.40              Remarks by FICCI representative
4.40 – 4.45              Address by Shri. Shivajirao Moghe Hon. Guardian Minister, Nagpur
4.55 – 5.10              Valedictory address by Shri. Ajit Pawar Hon. Deputy Chief Minister, Govt. of Maharashtra
5.10 – 5.15 p.m.     Vote of thanks by VIA.