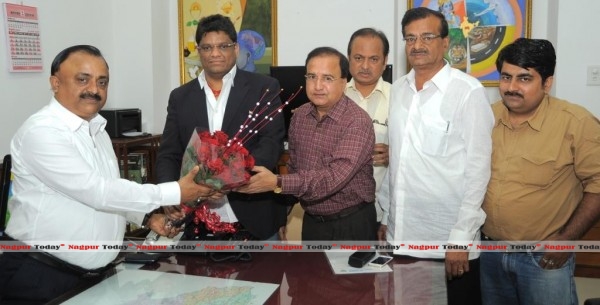 Nagpur News : A delegation of Nag Vidarbha Chamber of Commerce led by Dipen Agrawal, President, NVCC met Anoop Kumar, Divisional Commissioner, Nagpur Division at his office at old Secretariat Building. Shri Dipen Agrawal, NVCC President on his behalf and on behalf of members of the Chamber greeted, congratulated and welcomed Shri Anoop Kumar with floral bouquet on taking charge as Divisional Commissioner Nagpur division.
Dipen Agrawal said, there are many challenges for him as Divisional Commissioner, Naxalism, backwardness of region, successful implemention of MIHAN project, mineral development, Zudpi jungle etc. are some of them.
Anoop Kumar assured the delegation that he would look into the issues brought his knowledge & he would work for development of the region.
Dipen Agrawal, while extending best wishes assured Shri Anoop Kumar about best co-operation from Nag Vidarbha Chamber of commerce in his tenure. On the occasion Sarvashri Dipen Agrawal, President, Mayur Panchmatia, Vice President, Hemant Gandhi, Secretary, Manubhai Soni, Sachin Puniyani, Jt. Secretaries, states in a Press Note issued by Shri Hemant Gandhi, Hon. Secretary of the Chamber.