NVCC urges traders to gear-up for agitation against LBT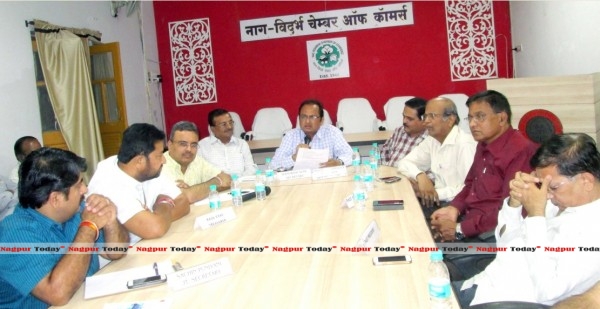 Nagpur.

An Emergent meeting was called by Nag Vidarbha Chamber of Commerce, President Shri Mayur Panchmatiya, with various Trade Association's President/Secretary in the meeting hall of the Chamber to condemn the steps taken by the Government of Maharashtra about abolishment of Local Body Tax (LBT) from 1st August, 2015. It was a sheer disappointment & betrayal to the trade bodies in Maharashtra State who whole heartedly supported the party during the Assembly Election Campaign, as its manifesto stated about LBT removal was in Top priority. It has been observed that the business community got success about LBT abolishment date as 1st August, 2015 that too, to be the scheduled date. It seems that the government could not find alternative for revenue collection in lieu of LBT, since it has come to power without working significantly or studying taxation & system on resuming power. The authorities assured the traders that LBT would be removed which the traders believed.
The members present in the meeting totally opposed the statement of Maharashtra Finance Minister in the Budget session & trading community are fully dissatisfied by the announcement of removal of LBT date as 1st August, 2015. The business community firmly like to inform the Party Leaders to revise the date of removal of LBT to 1st April, 2015 to salvage the image of Party whom they have voted to power. Massive support was given to BJP only in its MANIFESTO of LBT's abolishment immediately on resuming power. NVCC appeals Shri Nitinji Gadkari, Hon'ble Union Minister for Surface Transport & MP of Nagpur, Maharashtra Chief Minister Shri Devendra Fadnavis to reconsider the decision & find an alternate for the same.
25 Municipal Corporations are feeling the pinch of distrust and betrayal of the Party to the people as the talks have failed strong agitation by the apex body is the only ray of hope left. Guidelines of agitation all over Maharashtra State shall be declared by parent body FAM on 23rd March meeting at Mumbai.
On the occasion highlights of State Budget was presented by Shri Viren Chandak & Shri Sanjay K. Agrawal.
Prominent present were Past Presidents Prafulbhai Doshi, Nilesh Suchak, Hemant Khungar, Jagdish V. Bang, & Manubhai Soni, Hon. Secretary, Raju Vyas, Treasurer, Sachin Puniyani, Ashok Sanghvi, Arjundas Ahuja, Jt. Secretaries, Pratap Motwani, Prabhakar Deshmukh, Govind Mantri, Pradeep Panjwani & President/Secretary of following trade associations The Nagpur District Chemists & Druggists Asson. Nagpur Local Truck Owners Asson. Bhartya Swarnkar Samaj Asson. The Nagpur General Merchants Asson. Mominpura Traders Welfare asson. The Nagpur Wholesale Hosiery & Readymade Garment's Asson. The Nagpur Itwari Kirana M. Asson. The Nagpur Stainless Steel & Metal M. Asson. Sadar Vyapari Sangh, Wholesale Cloth & Yarn M. Asson. Hardware Dealers Asson. Bhartiya Swarnkar Samaj, Ramchandra Yerpude, Grain & Seeds M. Asson. Automobile Dealers Asson. Nagpur Watch Dealers Asson. Hudkeshwar Vyapari Asson. Ghass Bazar Asson. Electrical M. Asson. Dakshin Paschim Vyapari Sangh.
The programme was conducted & vote of thanks was proposed by Manubhai Soni, Secretary of the Chamber, states in a press note issued by Manubhai Soni, Hon. Secretary of Chamber.