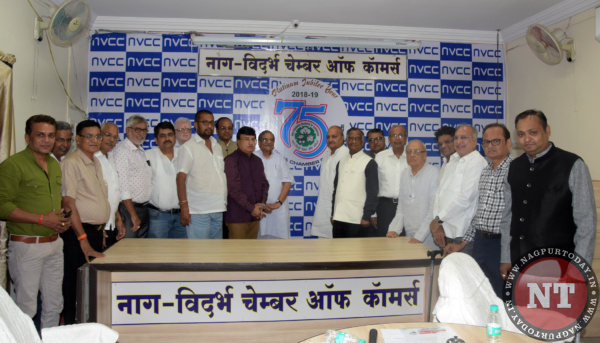 Nagpur: The Nag Vidarbha Chamber of Commerce (NVCC) on June 18 entered in its 75th year of existence. To mark the occasion, the traders' body embarked on year-long celebrations of Platinum Jubilee.
A formal function was organised at its 11th executive committee meeting in the august presence of chief guest Shyam Gupta, Joint Secretary, Vishwa Hindu Parishad (VHP) and Founder of Ekal Sanstha and Ashok Agrawala, Chairman of Hari Satsang Committee, Nagpur. The NVCC has planned 75 events to be held throughout the year to mark its Platinum Jubilee, said NVCC President Hemant Gandhi.
In his speech, the chief guest Shyam Gupta threw light on activities being carried out across the country. He said VHP has undertaken a task to make Adivasis staying in remote areas literate. "There is a feeling that like traders, tribals are also deprived and neglected. But by joining Ekal campaigns, the traders have proved the notion that traders only eran money wrong. The traders' community has nothing to do with welfare of society. But it is wrong notion," Gupta said and appealed the traders to join Ekal campaign in more and more numbers and give a strong reply to those who criticise the traders for vote bank.
Hemant Gandhi and IPP Prakash Mehadia at the outset felicitated Gupta by offering him shawl, shriphal and a memento. Vice President Raju Vyas introduced Gupta to NVCC executive members. Gandhi also welcomed Ashok Agrawala by offering him bouquet and memento.
The NVCC President Hemant Gandhi said the Chamber has joined Ekal Sanstha for its cause and is always ready to support the Sanstha in days to come. He asserted that the traders' body has emerged stronger since the past few years. Later, the chief guest Shyam Gupta unveiled the logo of NVCC's Platinum Jubilee Mahotsav.
The programme was conducted by Secretary Sanjay Agrawal while vote of thanks was proposed by Joint Secretary Umesh Patel.
Present on the occasion include NVCC's past Presidents Govindlal Sarda, Prafulbhai Doshi, B C Bhartia, Prakash Wadhwani, Hemant Khungar, Jagdish Bang, Dipen Agrawal, Mayur Panchmatiya, Vice Presidents Arjundas Ahuja, Ashwin Mehadia, Treasurer Sachin Puniyani, Joint Secretaries Farooqbhai Akbani, Ramavtar Totla, Umesh Patel, PRO Shabbar Shakir, other executive members, traders' representatives, and office-bearers of associations affiliated with NVCC.
The NVCC, as part of year-long Platinum Jubilee celebrations, will organise seminars, interactive sessions on trade and commerce, finance, social issues, cultural issues, sport events and educational programmes in all parts of Vidarbha region.
Notably, the Chamber was set up in 1944 even before the country's independence. A group of leading industrialist and traders had set up the body and over the years it has evolved into a major platform of the traders.