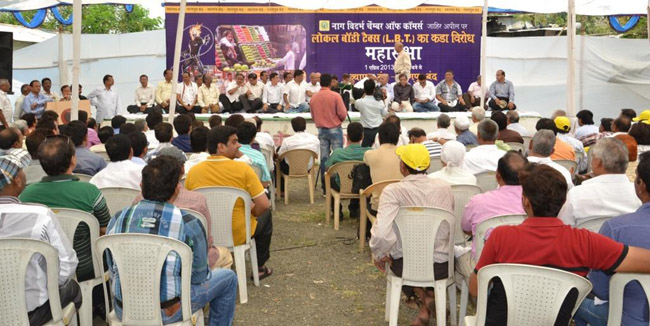 Nagpur News: Nag Vidarbha Chamber of Commerce an apex body of trade, commerce & industry had given a bandh call against implementation of LBT by Nagpur Municipal Corporation as per Notification of Maharashtra Government. The members of business community of all trade association as well as small retail traders, panthelawala, khonchewalla, doing business on footpaths kept their shops & establishments closed and in a rally from their respective markets assembled in the premises of the Chamber where a MAHASABHA was organized by the Chamber. On the occasion Past Presidents of the Chamber, and President/Secretary of various trade associations addressed the gathering of 5000 traders and loudly gave slogans opposing LBT which has been implemented by NMC as per Notification of Maharashtra Government from 1st April 2013. While addressing the members of trading community Shri Dipen Agrawal, President of the Chamber apprised that NVCC on behalf of all trade associations filed a writ petition today in the Mumbai High Court, Nagpur Bench, especially against harsh rules of LBT's Notfn. The Writ Petition has been admitted by the High Court. NVCC's writ petition along with similar other writ petitions will be heard on 2nd April, 2013. Shri Dipen Agrawal, President also proposed following resolutions which were adopted unanimously by the trading community.
1. No member of trading community will register under the purview of LBT.
2. In case any officer of NMC visits the premises of any shop/establishment for registration then the trader should not give him co-operation.
3. In this regard the trader should contact the office bearers of the Chamber for assistance.
4. On hearing the decision of High Court on 2nd April, 2013 further course of action will be decided in consultation with the President/Secretary of trade associations.
The programme was conducted by Shri Hemant Gandhi, Hon. Secretary and vote of thanks propose by Shri Ashok Sanghvi, Jt. Secretary of Chamber. Shri Dipen Agrawal, President, Sarvashri Kailashchandra Agrawal, Govindlal Sarda, Prafulbhai Doshi, Shreegopal Soni, Murlidhar Surjan, Radheshyam Sarda, Suresh Bhojwani, Hemant Khungar, Nilesh Suchak, Jagdish V. Bang, Past Presidents, Mayur Panchmatia, Prakash Mehadia, Hemant Gandhi, Chunibhai Shah, Manubhai Soni, Sachin Puniyani, Ashok Sanghvi, Bharatkumar V. Thakkar, Dilipbhai M. Thakral, Dhiraj G. Maloo, Farooquebhai Akbani, Gajanand B. Gupta, Jaiprakash Parekh, Laxmikant Agrawal, Mahesh Khetan, Nikhilesh Thakar, Prabhakar Deshmukh, Pratap Motwani, Prakash G. Goyal, Rajubhai Makhija,Ramdas Vajani, Raju Vyas, Rajesh Vasani, Ram Awatar Totla, Satish Bang, Shabbar Shakir, Suhas Kshirsagar, Vijay Kewalramani, Viren Chandak, Hastimal Kataria, Bharatbhai S. Thakkar, Deepak Khurana, Ghanshyamdas Chhabria, Raghunath Kendulkar, Minalbhai Patel, Natwarlal Patel, Pradip V. Jain, Rajendra Bansal, Rajesh Aamte, Atul A. Chotai, Raju Vyas, Sharad Chandak, Rajesh Wadhwani, Rohit Agrawal, Manoj Kumarlay, Aseem Bordia, Vinod Makhariya, Vinod Varma, Dilip Bhutda, Harish Dudeja, Subhash P. Agrawal, Vijay M. Chandak, Syed Nawab Ali, Vijay Pote, Assandas H. Balwani, Govardhandas Premani, Madhusudan Sarda, Shailendra Verma, Sanjay M. Wadhwani, Satish Gangar, Niraj D. Khakar, Pradipkumar Panjwani, Suresh Subramniyam, Rakesh Babulal Mansata, Gaurov S. Javery, Prakash Jais, Ramraj S. Nadar, Omprakash Bhaiya, Ramchandra Yerpude, Vishal N. Parekh, Yogesh D. Ashar, Vijay Kumar Puniyani, Yogendrakumar Agrawal, Anil Mantri, Zoeb Abbas Ali, Shambhu Dayal Tekariwal, Laxminarayan Sharma, Automobile Dealer's Association, All India (Nagpur)Transport Sangh, Credai-Nagpur Metro, Central India Coal Dealer's Association, The Nagpur Chilies Merchants Welfare Association, Electronics Merchants Association, The Electrical Merchants Association, Nagpur Electronics Dealer's Association, Central India Surgical Dealer's Association, Gaddigodam Dukandar Sangh, Home Appliances Merchants Association, Hardware Dealer's Association, Kalamna Dhanya Ganj Adtiya Mandal, Kelibag Road Vyapari Sangh, Megha Business C&F Super Dealer's Association, Nagpur Consumer Products Distributor Association, Nagpur Timber Merchants Association, Nagpur Furniture Trader's Welfare Association, Nagpur Bidi & Tobacco Merchants Association, Nagpur Agro Dealer's Association, Nagpur Stainless Steel & Metal Merchants Association, Nagpur Hotel Owner's Association, The Nagpur General Merchants Association, Nagpur Fire Works Dealer's Association, Stone Merchants Association, The Nagpur Footwear Wholesale Dealers Asson, Swarnkar Ekta V. Asson, Nagpur Wholesale Hosiery Readymade Garments Merchants Welfare Association, Nagpur Tea Merchants Association, Nagpur Vahi Utpadak Sangh, Nagpur District Chemists & Druggist Merchants Association, Nagpur Tiles Association, Nagpur Tent House Association, Nagpur Local Truck Owners Association, Nagpur Watch Dealer's Association, Nagpur Mill & Machinery Merchants Association, Sona Chandi Oli Committee. Sitabuldi Main Road (Lohapool) Vyapari Sangh, Sitabuldi Merchants Association, The Nagpur Itwari Kirana Merchants Association, Steel & Hardware Chamber of Vidarbha, Vidarbha Power looms weavers Mominpura, Sadar Golcha Marg Dukandar Sangh, Sitabuldi Vyapari Sangh (Madhya),
-3-
The Oil Merchants Association, The Nagpur Itwari Malyali Merchants Association,The Wholesale Grain & Seeds Merchants Association, The Wholesale Cloth & Yarn Merchants Association, Travel's Association of Nagpur, Vidarbha Computer & Media Dealer's Welfare Association, Vidarbha Dyes & Chemical Merchants Association, Vidarbha Food Industries Association, Vidarbha Transport Commission Agent Association, Vidarbha Dall Miller's Association, Vidarbha Plastic Industries Association, Vidarbha Plywood Merchants Association, Nagpur Vehicles Broker Association, Octroi Free Zone Warehousing Co-operative Society Ltd. The Paper Trader's Association, Printers Guild, The Nagpur Wholesale Poha-Murmura Merchants Association, The Nagpur Paint Merchants Association Nagpur Bardana Merchants Association Canvassing Agent's Welfare Association, Nagpur District Bricks Manufacturers Association, Nagpur Vehicle Hire Purchase Association, Vidarbha Fly Ash Brick's Manufacturer's Association, Vidarbha Rural Industries Asson, Kalmana Vyapari Association, Footwear Merchants Welfare Association, Nagpur Cooler Manufacturers Association, Bhartiya Swarnkar Samaj Assocation, Navyuvak Sarafa Association, Jagnath Road Merchants Assocation, Nagpur Vehicle Broker's Association, Maharashtra Swarnakar Sanstha, Dharampeth, Sadar, Residency Road, Gittikadhan, Jaripatka, Khamla, Kamptee Road, Gokulpeth, Wadi, Bada Tajbagh, Manewada, Nandanvan, Jagnade Chowk Dukandar Sangh, Nagpur Ceramic Wholesale Asson, Kalmana Adtiya Mandal, Aloo Pyaj Vyapari Sangh, Netajee Market Asson, Nagpur Tent House Asson, Swarnakar Ekta Vyavasaic Sansta were present states in a press note issued by Shri Sachin Puniyani, Hon. Jt. Secretary of the Chamber.