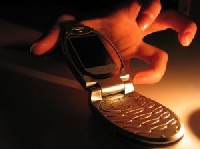 Nagpur News : 16 stolen cell phones worth Rs 23,000 were seized from two young mobile thieves- 19-year-old Ani Bandewar and Dinesh Sahoo, 20- who were arrested by Gititkhadan police on Sunday night.
Sai Nagar resident Bandewar and Sahoo, who is from Koradi, had confessed of stealingc ell phones of more than ten people. Sahoo would drive at high speed while pillion rider Bandewar would snatch away the cell phone. Police said that in some cases, the duo would stop and threaten the victim before stealing the cell phone and cash with them.
POlice has also seized their bike used in the crime.
It was learnt that the duo has stolen a cell phone worth Rs 7000 from a woman in Gittikhadan.