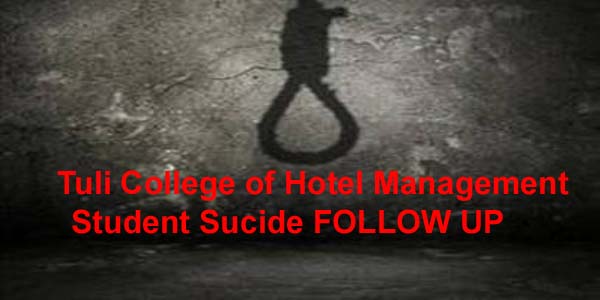 Nagpur News : Alleging harassment by college authorities led Dilip Shankar to commit suicide, his sister Dipti filed a written complaint against Urvashi Roy, Tuli group of Institutions at Koradi police on Wednesday night.
Late night, Roy was booked for abetment of Dilip's suicide.
On Wednesday afternoon, there was a bit disturbance at Mayo mortuary after his local guardians and close relatives blamed college authorities for harassing Dilip for non-payment of college fees and enforced him to take the drsatic step.
Dilip, 21-year-old second year student of Bachelor of Hotel Management and Catering Technology (BHMCT), had hanged himself to the ventilator hook attached to the door of his hostel room with the bed sheet. The hostel room, which he would share with his four batch mates, was within the college campus on Bokhara road, near Koradi check post on Tuesday.
It was learnt that Dilip had not paid college fees from past many months while his father, Shankar, a retired defence employee, had sent Rs 80,000 for the fee. Police sources informed that Dilip had spent the fee money and thus was frightened of his parents scolding.
Accepting the fact that Dilip hadn't paid college fee from past many months, Roy said, "We asked him many times about his pending college fee but he told that his family is suffering from some financial crisis. Thus, considering his problem we allowed him to appear for the final practical exam."
However, Dipti blamed harassment by college faculty that had forced him to end his life. She told that on Tuesday around 11 am she spoke to Dilip and he sounds very normal.
"He kept the phone saying that he has been called by the management. Roy took a meeting with him for 45 minutes and only after that he commit suicide," said Dipti claiming that Roy had harassed and blackmailed Dilip.
She claimed that the teachers should have informed them earlier when Dilip didn't paid the fee for first month. She told that Dilip's batch mates has complaint to her about Roy's behaviour in the college.