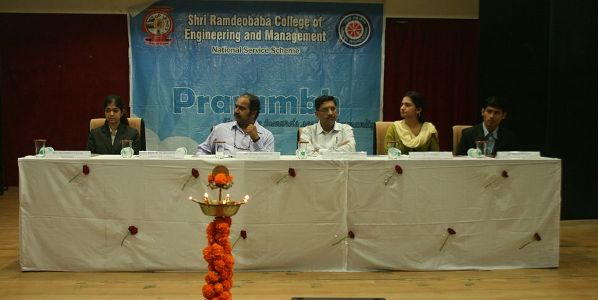 Nagpur News:
National Service Scheme (NSS) unit of Shri Ramdeobaba College of Engineering and Management (RCOEM) organized "PRARAMBH" on 24th August 2013. PRARAMBH is a program organized to not only introduce the activities of NSS to Second Year students of B.E., M.B.A and M.C.A. but to also incorporate new members for the session.
PRARAMBH began with the traditional opening ceremony followed by the introductory remarks by Shreshtha Swami (Secretary, NSS) who presented the annual report on NSS activities. The Chief Guest of the function was Dr. Manoj Tatwadi (Director, Raviraj Centre for Social Reconstruction), who inspired the students to adopt the virtues of honesty, bravery and constant hardword for success. Dr. VS Deshpande (Principal, RCOEM) graced the occasion as well and highlighted the importance of social services and soft skills. The function concluded with the investiture ceremony of NSS post holders for the year 2013-14. Shraddha Chaterjee and Anish Vinod further conducted the proceeding while Nikita Pal delivered the vote of thanks.
The program was organize under the supervision of prof NM Deshkar (Dean, Students' Counselling and Welfare Cell) and Dr S Dogra (HOD, Physical Edu Dept and NSS officer).