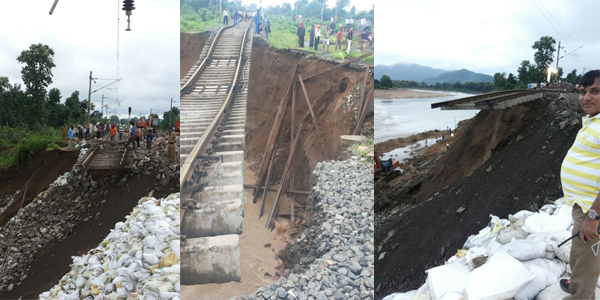 Nagpur News.
Large number of trains continued to run well beyond their scheduled time in Nagpur as traffic remains disrupted due to damaged rail track on Nagpur-Itarsi section. On Monday around 15 trains rain late for hours leaving the passengers stranded at Nagpur railway station. Some trains were delayed for more than 7 hours. Haz, Nizamuddin – Bhusawal Gondwana Express (12406) ran alarmingly late by 9 hours.
15 metres of rail track between Barbatpur and Magardoh railway station on Nagpur-Itarsi section was badly damaged due to incessant rains on August 23. The sandstone up to 15 metres rail track along with 15 sleepers below the track and an OHE pole were washed away in flooding waters of Machna river. The repair works were on, however only one route is operational on this section. This has caused a great deal of traffic disruption as all the trains on up and down route were being ran from single line.
Nagpur's Divisional Railway Manager (Central railways) Brijesh Dikshit has reached the site along with other senior officials. More than 1700 labourers have been deployed to fix the problem.
A release from railways informed that nine specials trains were pushed into to supply repair material on the site. The material included 123 wagons full of boulders, sand and sand stones. Additional six special trains would carry 72 wagons full of the material. Six pokland machines, 2 JCB machines and 8 tractors have been pumped into service on site, the release added.
Help centers have been set up at Nagpur, Wardha and Betul railway stations for facilitating the passengers with information.
Helpline Numbers
Nagpur – 0712- 2564343
Wardha – 07152 – 254167
Betul – 07141 -234930
Trains running late on Monday
12438  Haz. Nizamuddin – Secunderabad Rajdhani Express (7 hrs 45 mins)
12160  Jabalpur-Amravati Express (7 hrs 30 mins)
12913  Indore – Nagpur Trishatabdi Express ( 5 hrs 30 mins)
12406 Haz, Nizamuddin – Bhusawal Gondwana Express (9 hrs)
12724 New Delhi-Hyderabad AP Express ( 6 hrs 20 mins)
22694 Haz. Nizamudding – Bangalore Express (3 hrs 30 mins)
16032 Jammu Tawi – Chennai Andaman Express (4 hrs)
12792 Patna – Secunderabad Express (3 hrs 15 mins)
12616 New Delhi – Chennai GT Express (5 hrs)
12409 Raigarh – Haz. Nizamuddin Gondwana Express (5 hrs)
12968 Jaipur – Chennai Express (4 hrs)
12622 New Delhi – Chennai Tamil Nadu Express (4 hrs 20 mins)
14260 Varanasi – Rameshwari Express (3 hrs 20 mins)
12722 Haz. Nizamuddin- Hyderbad Dakshin Express ( 2 hrs 10 mins)
12296 Patna – Bangalore Sanghmitra Express (1 hr 25 mins)
22404 New Delhi – Pondicherry Express (1 hr 15 mins)