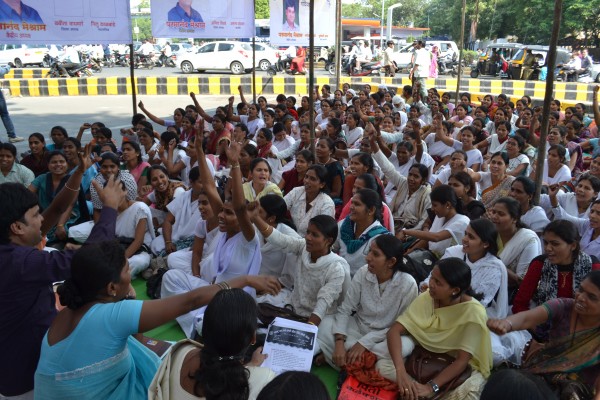 Nagpur News:  Accredited Social Health Activists (ASHA) under the National Rural Health Mission (NRHM) gathered at RBI square from across Maharashtra on Wednesday, to protest a new rule introduced in April- May 2012 which made it compulsory for them to aid in the delivery of three babies per month.
"The new rules state that if we do not aid at least three births by December, we will lose our jobs", an ASHA activist said, "How can we aid three births if we are located in a village with a population that gives birth to twelve or fifteen children per year?"
A female ASHA, or community health activist, is employed in each village in a country under NRHM. She is required to be a local, whose job is to aid the trained Auxiliary Nurse Midwife (ANM) in providing medical aid to villagers. The ASHA is the person present in the village 24/7 to address the needs of villagers. It is the job of the ANM to train the ASHA on the job, hold weekly or fortnightly meetings with her to discuss problems, and to guide her accordingly. It is also the job of the ANM to ensure that the ASHA gets due compensation for her work.
Payment is the second grievance of the ASHAs gathered at RBI square on Wednesday. "An ANM is paid Rs 25, 000 per month, while an ASHA is paid Rs. 8,000 per month, despite having been employed under NRHM for 7 years", an aggrieved ASHA told Nagpur Today.