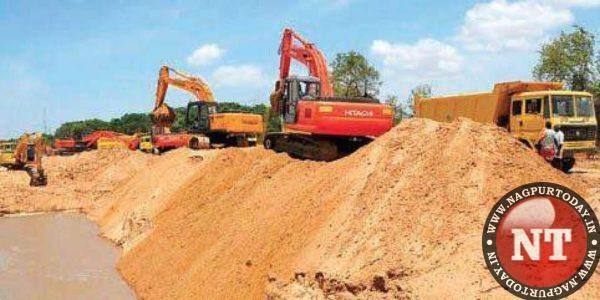 Nagpur: Implementing the Government of Maharashtra's new Sand Policy, the Nagpur district administration commenced the selling of sand at the rate of Rs 600 per brass from Thursday.
District Collector Dr Vipin Itankar on Thursday held a press conference, where he explained how the selling process will take place. Some citizens have even purchased the sand at the new government rate. The State Government unveiled the new Sand Policy recently, under which citizens will get sand at a cost of Rs 600 per brass or Rs 133 per metric tonne on a pilot basis for one year.
It is mandatory for the buyers to submit a photocopy of their Aadhaar card while purchasing sand, through an online process. The purchase will be made through Mahakhanij mobile application or through https://www.mahakhanij.maharashtra.gov.in. The buyer will have to log into the website and register himself first before making any transaction. Thereafter, he has to select the nearest government sand depot and then make online payment.
"After making online payment, the buyer will get a payment receipt, which he will have to carry to the depot from where he will get the sand. Only after producing that receipt will the buyers be allowed to get the sand," said Dr Itankar. One person can get at most 11 brass and on one Aadhaar card. We are yet to start bulk sale of sand, he added.
Nagpur got the highest 50,000 brass in the state which is enough for the monsoon season. Sand mining will be restricted for the three months during monsoon. It will resume from September 30, he informed. "When buyers are getting sand directly from the government at a very cheap rate then no one will go to other sellers and buy sand at higher rates. It will help to reduce the illegal sand mining and black marketing," said the Collector.
There are 11 sand depots established in Nagpur district and buyers can get the sand from their nearest depot which will allow them to get an option while online booking of sand. The district administration is also providing transportation from its depots or buyers can get their own vehicle for transportation of sand, said the collector.
Vijay Anand, SP Gramin; Asha Pathan, Additional District Collector; Dr Atul Dod, District Mining Officer; Anita Parate, Executive Engineer; and S P Fase, Transport Officer were also present at the press conference.