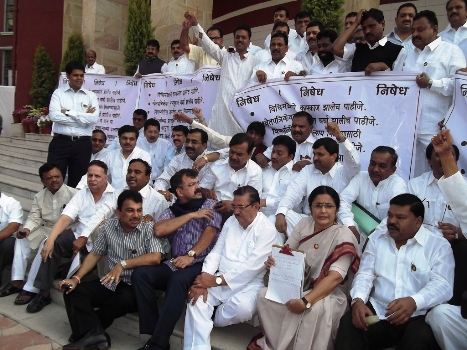 Nagpur News: Shifting the track from Opposition unruly scenes in the both the Houses of Legislation, large number of NCP legislators gathered outside Assembly meeting hall on Friday morning and shouted slogans against the Opposition members who have been causing disruption in the legislative proceedings for the last four days. The Opposition has been demanding SIT probe into the alleged irrigation scam.
Giving the agitating members a break the NCP MLAs pressed for the smooth functioning of the Houses and demanded that no disturbance should be further caused keeping in view the widely prevailing public anguish over the current situation in legislation.
The MLAs stressed that various issues concerning Vidarbha should be raised with due concern as the session is conducted in the city for this purpose only.
They NCP legislators resorted to stern stand against the Opposition activities during the current session saying that such disruptive elements should be strongly dealt with. They also pressed that the agitating members should sit down for a debate over the said irrigation scam without adapting to unruly methods.