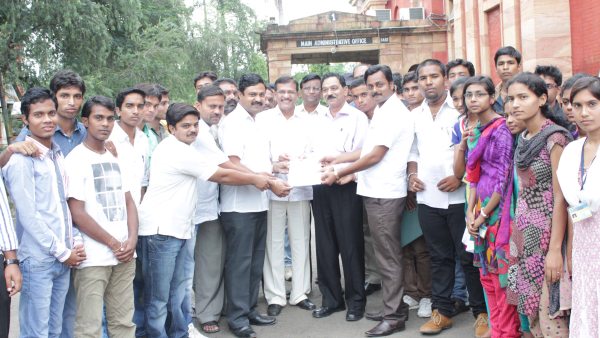 Nagpur News: BBA Students of Shri Pandhirinath Arts & Commerce college, Narkhed affiliated to Nagpur University are in fix as the BBA course they are doing is derecognized by the University because of lack of teachers and student strength in the college .
The students who passed 2nd year BBA are not allowed admissions in final year 2013-14 and 1st year students are not allowed admissions in 2nd year by the Principal, Shri Pandhirinath,Narkhed. According to the High Court order admissions in 250 banned colleges and students strength less 50% are not allowed.
The future of this students are at stake and the BBA students of Pandhirinath college along with Maharashtra Navnirman Sena ( MNS) District President , Kishore Saraykar , MNS Narkhed President Saarang Dhotkar met the Registrar,RTMNU,Dr Ashok Gomase on Monday 19th August and requested to allow admissions to these students. They asked the University to come clear on the admissions to these 2nd and 3rd year students.
During the discussion with Registrar RTMNU it became clear that admissions to 2nd and 3rd year in the blacklisted colleges are banned.
Now it is interesting to see as already students have admissions in the 1st year of many black listed colleges. These students have enrollment numbers issued by the University and the university has to take their examination. But the fate of students is hanging in balance as the case is subjudice.