Since the time I started reading newspapers in my School Library at the age of 11 when I was in 6th Standard , I have been seeing stories about Vidarbha and creation of Separate Vidarbha . I am 37 years now , and since then there has been a sea change in how Local News is delivered from just Newspapers to addition of Television , Private Radio Stations , Web Streaming , Internet , News Apps , Group forwards etc. but even after 26 years , one story that remains the same is of Separate Vidarbha . What could be the real reason why when there has been so much change in technology , quality of lives of people , increase in number and revenues of enterprises , professionals , educational establishments etc. the same old topic still remains the favorite of some selective Political People and some selective Media Houses (mostly owned by Politicians or affiliated to some Party) ?
What is the success track record , capabilities , modus operandi of such people who propagate creation of Separate Vidarbha ? Do they even know about the Revenues and Expenditures of the Vidarbha Region ? Do they have an economically viable plan for the State they have been demanding since decades ? Or is it that anyone who has a Mouth Piece (Media Setup) or has lost a position/election or wants to win a post/election starts talking about it and when he gets what he wants , keeps quiet which reminds me of an old saying "Crying Baby gets the Milk" .
Every Country , State , Region , City , Enterprise , Organization etc.. is competing to be a Financial Powerhouse . Any of them who has not had a clear plan of how they would raise Revenues and keep Expenses in control by adopting best practices / systems which will make their Operations more "Efficient" , "Effective" , "Eco-friendly" and "Economical" sooner or later has gone bust . Today Heads of Governments have to function more like CEO's who also have to ensure viability/financial stability of their Country , States , Cities etc. Growth for all is the only Mantra and all citizens need to be United with one Voice rather than being divided by vested interests over issues such as reservation , religion , caste , gender , wealth etc.
As a common man I understand the reason why Vidarbha issue crops up each time from the minds and mouths of certain set of people and am sure many other common people like me do also understand the same .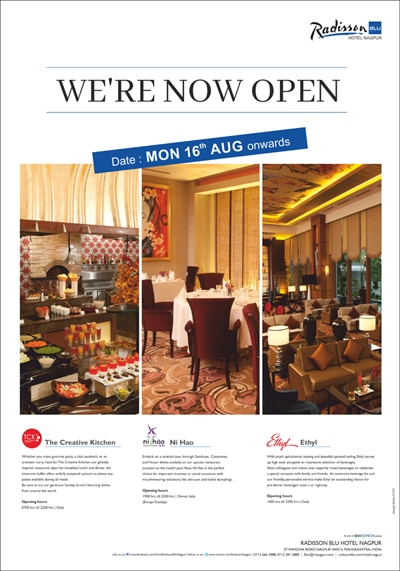 Since I am not a Politician , nor a Media Owner so I won't talk about the Economic Backwardness of Vidarbha and then give only one and only solution i.e., a Separate Vidarbha , rather as a Common Man and a Businessman I would like to provide a Small Solution (which according to me is a Powerful one) to the Problem . As a proud Nagpurian/Vidarbhite having done Business in Nagpur and now Mumbai , Delhi NCR and Globally , I feel Vidarbha needs a CEO rather than a Separate State . There has to be a dedicated person running across the Country and the World giving presentations and inviting people to Invest in Vidarbha and show the Advantages . People who know me closely during my days in Nagpur would know how passionate I was about bringing world class Brands and Companies to Nagpur and was Successful in bringing many Premium Brands at Impossible Locations and at Unbelievable Rentals . It is true that Marketing & Sales has always been my favorite Subject , but with that love for my city and seeing it grow and being one of the agents of growth , used to give me an incomparable "Kick" . Back then in 2005/6 , I waited for months to get appointment with top retailers and then waited for hours at their reception to meet them . Many heads of big companies in large cities didn't even know in which state Nagpur was leave having visited the City . Many came to visit after getting convinced by my aggressive but truthful sales pitch and I made it a point to personally pick them up (many a times even when the person visiting was a Business Development Head and not the CXO Level or the Owner) , show them places , have lunch and then after dinner drop them back to the Airport . It didn't matter to me that being an Owner I was doing job of sales , what mattered was the results . And the results started coming .
With the same passion , I still always feel of what best I can contribute to bring my city to a much higher level . Having been born in Nagpur and handled various types of Businesses from Retail to Information Technology to Family Business of Real Estate and working with some great local vendors/service providers over the years with whom I still work even after shifting to Mumbai 8 years back in 2008 , I realized the 2 major Valuable Advantages Nagpur/Vidarbha provides : 1) Economical : The cost at which I can get work done from Nagpur Vendors is many times less than half of the cost I would pay for the same in Mumbai (because cost of Real Estate , Manpower etc. is very high in Mumbai) , 2) 24×7 Service : When I was in Nagpur , I knew what a weekend was but never actually experienced one . After coming to Mumbai I had to understand new work styles of "Majority" (not everyone though) vendors/professionals not working on weekends and also not being available 24×7 . I am not saying that working on a weekend is good or bad nor am I saying that vendors who do not take calls after office hours are bad , but isn't it a major advantage that your Vendor/Service Provider is available 24×7 ? The reasons could also be that for Tier 2 Businessmen/Professionals people from bigger cities are considered as Priority Customers due to the amount of business they give or the hope of the business they may give but why should a Customer like me bother about the reason , instead should be more than happy as a Customer who still works on Weekends.
Being a Businessman and with a motive of Growth by creating a Profitable Enterprise , I see lot of Value in Outsourcing my works to various Professionals/Vendors in Nagpur/Vidarbha and therefore before buying any product or availing Services , I always check from my friendly vendors/professionals in Nagpur and then take a final decision . Talking about Quality Levels , today the Consumer be in a Metro or a Tier 2 city like Nagpur has access to same Newspapers , TV Channels , Websites , Social Networking Sites , e-Commerce Sites , Gadgets , Technology etc. also the affluent Tier 2 citizen travels Globally for Education , Tourism , Exhibitions , Conferences etc. and experiences and expects a minimum quality himself / herself and therefore empathizes with others too and as a result wants to also himself/herself provide better Quality and Experience for their Products & Services too .
Without giving much Gyaan and being a person who believes strongly in Karma , I have made a resolve to outsource as much as I can to Nagpur/Vidarbha based entities . I have introduced many of my Vendors and Professionals from Nagpur to my friends in Mumbai and Globally and even they are quite happy . Same way , I request all the other Non Resident Nagpurians/Vidarbhites to practice the same in our own small way to strengthen the Economy of our Birthplace Vidarbha which is part of Maharashtra and Bharat (India) too .
Jai Vidarbha , Jai Maharashtra , Jai Bharat !!!
…. Vijaykumar Harchandani
(vijaykumarharchandani.com Real Estate Developer & Investor , Startup Incubator )