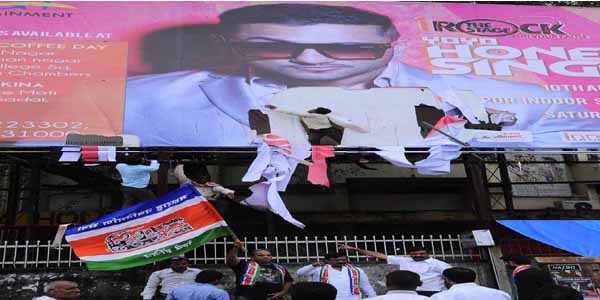 Nagpur News:  First they were disappointed after their rapper idol Honey Singh did not get the permission to visit Nagpur and now they are even debarred from the huge money they paid for the ticket prices for being a part of the show. The young and vibrant fans of Yo Yo Honey Singh in Nagpur are feeling cheated at this juncture.
It's been over a week since the organizer of Honey Singh's show was denied permission for the venue, resulting in cancellation of the show, but the crazy fans of the rapper are being deliberately made to run for their money.  The organizer seems to be in no mood to refund the money he collected against the tickets sale. The viewers are queuing up at the organizer's office, following it up to the places where the temporary ticket counters were set up, but all in vain.
One such buyer who had purchased the show ticket lamented that he had been running from pillar to post to get back his money but the organizer always comes out with lame excuses. He keep passing the buck on the district administration and concerned officials who denied the venue permission.
"I have burnt the fuel costing equal to the ticket price in moving to and fro to collect my refund but now there seems to be no hope alive," said Krishna Gawande who along with his friends has invested their pocket money to watch the rapper performing live.
Rajiv Gotewar said that he had to go for booking ticket as his 18 year old son insisted on watching the show but now he is disappointed. "Neither the show happened nor they are returning the money," he said.
As per the reports, the organizer Neerja Dharmadhikari is coming up with the common excuse for not refunding the ticket amount to the viewers. He has blamed on officials and local administration for the cancellation of the show and said that he could not do much under such circumstances.
Despite the series of phone calls and text messages to Neerja Dharmadhikari by Nagpur Today,  chose not to respond.