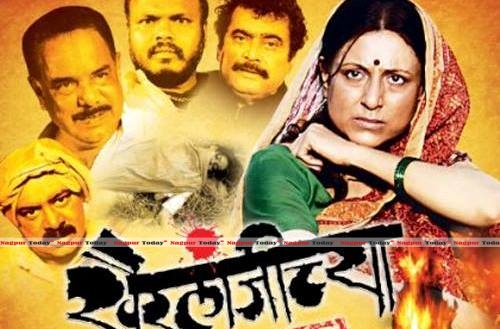 Based on the casteist massacre that sent ripples throughout the nation, the film Khairlanjichya Mathyawar has landed in the legal trouble stalling its screening in the theatres here. Nagpur bench of Bombay High Court has ordered stay on the movie owing to its controversial contents. The massacre took place on September 29, 2006 in village Khairlanji near Nagpur when a fumed mob brutally attacked the members of Bhaiyalal Bhotmange's family. Moreover, his daughter and wife was also gang raped in the incident. Bhaiyalal ran for his life and was the lone survivor of the incident.
Raja Laharia, Manager at Panchsheel cinema here told Nagpur Today that the cinema halls in Nagpur did not conduct any show for the movie. "Not only in Nagpur the movie is stayed all over Maharashtra as one of the survivors in the incident had objected to the wrong portrayal of his character as drunkard man."
Similar reports came in from Akola too. However, the film's producer Kalpana Saroj informed that she was yet to receive any legal notice at his office in Nagpur.
As reported earlier, Bhaiyalal was upset with the way he and his family has been portrayed in the film. When asked about this Saroj said, "I am sure this is not Bhaiyalal's doing. He had seen the film earlier and had raised no objection. It is the people who he lives with that are pushing him into doing this. We haven't shown anything wrong in the film and are sure that we will get justice."