Nagpur: Its result time in Nagpur and so is the season for coaching classes to put up their claims and draw fresh intake to their business places. Nagpur witnesses similar tuition scenario every year around the same time. The trend has gone so much in vogue that the tuition has just become a way of life for the students. More so it has become more of psychological thing than getting a handful of help in studies!
But the Principals and teachers of top schools in Nagpur have quite a different take on tuitions as Nagpur.
They do not feel the need for tuitions or coaching classes for any student to excel. This has been significantly supported by the students who had excelled in the recently declared results of Maharashtra State Board of Secondary Education and Central Board of Secondary Education (CBSE) were declared.
The city students making it to the merit list claimed that they did not attend any tuition classes.
Talking to Nagpur Today, Principal of Bhavan's Bhagwandas Purohit Vidya Mandir Anju Bhutani said that the curriculum of the CBSE is wonderfully crafted and caters to the intellectual capacity of the students of that age. She added that the course is designed to challenge the cognitive skills of the students of that particular age. All it requires of the student is to attend the classes regularly, pay attention to what is taught and to regularly study what is taught in the school. Getting the concepts clear and application of the concepts is all that it takes to excel. Anju Bhutani too claimed that the teachers of Bhavans are very dedicated and work hard to ensure that every student excels.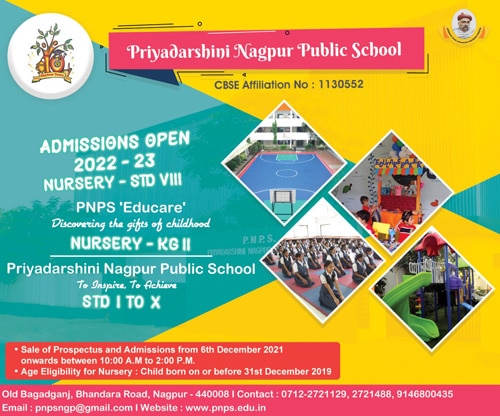 A similar opinion was voiced by Principal of Centre Point School Shilpi Ganguly who said that the students who excelled so far are those who kept a consistent hard work on a day-to-day basis. She too said that the school teachers ensure that every student understands what is taught in the classroom. She added that the students are always free to approach the teachers with their doubts and if something is not understood.
Principal of St Ursula Girls High School Rachna Singh too, told Nagpur Today that unless a student is ill and is not able to attend to regular classes in the school, one does not need tuitions. She claimed that the tuition classes have become a big business. She added that many engineering drop-outs or low-scoring engineering graduates have opened tuition classes with an assurance of getting the students to clear their mathematics and science subjects. Since mathematics is considered by many student as a killer subject, these tuition classes near their residence seems to be a boon. If the teaching in the school is not good, how come the students from the same class get merit?