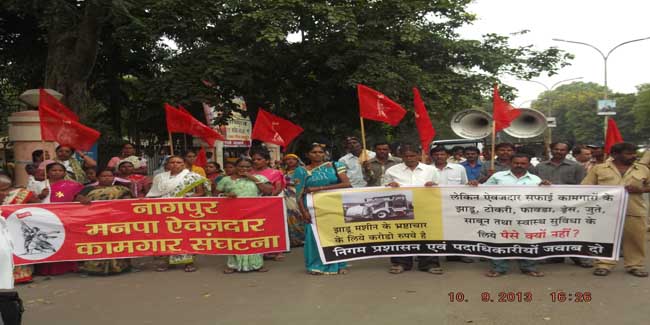 Nagpur News: The Nagpur Mahanagar Palika Aiwajdar (Sanitation Workers) Kamgar Sangathana staged vociferous protests in front of Nagpur Municipal Corporation (NMC) Headquarters in Civil Lines. The protest was targeted at the alleged sweeper machine scam and the protesters demanded stringent actions against the perpetrators of the scam, registering of criminal offences against the guilty in scam, providing of sweeper, basket, spade, mask, soap, dress, shoes, hand gloves and other health facilities to aiwajdars (Sanitation workers), and immediate cancellation of agreement with the company.
It may be recalled, the NMC had given a contract to "Swachhata Corporation" for sweeping of the roads by sweeper machine and contract amount was Rs 1.50 crore annually. The NMC could have purchased the sweeper machine at the cost of Rs 78.44 lakh instead of paying Rs 7.56 crore to the company for five years. "Penny wise, pound foolish."
The protest the Nagpur Mahanagar Palika Aiwajdar (Sanitation Workers) Kamgar Sangathana was led by Jammu Anand, President of the organization. The organization charged the NMC for its hesitation to increase salaries of sanitation workers since past three years but on the other hand, pouring crores for unnecessary and useless sweeper machinery. "The NMC Administration is deliberately making work of sanitation workers the technical thus heaping injustice to them. Moreover, looking after the interest of the company only at the cost of crores of rupees," Jammu Anand said.
The President of the the Nagpur Mahanagar Palika Aiwajdar Kamgar Sangathana Jammu Anand posed a pointed poser to NMC: "The NMC, which earns at least Rs 800 crore annually, then why it resorted deploy the sweepe machine on rent at the cost of Rs 78 lakh per year and Rs 7.50 crore for five years? Had the NMC purchased the sweeper machine and spent Rs 50,000 including the salary of the driver at Rs 20,000 and other Rs 30,000 for diesel and maintenance per rmonth. The annual expenses would have been at Rs 6 lakh. It means, Rs 30-35 lakh expense for fiver years. The total of expenditure, including the cost of the sweeper machine, would have been between Rs 1-1.25 crore annually. A net saving of Rs 6 crore. It is sheer a big scam," Jammu Anand claimed.