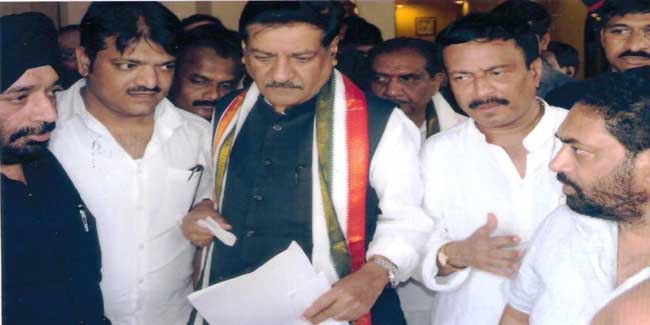 Nagpur News: The half constructed and abandoned Ramjhula over bridge at Nagpur Railway Station has been "swinging" the citizens haphazardly, literally. The deserted Ramjhula, instead of bridging the gap, widening it and has been pushing the citizens to face problems as the bridge itself hit the roadblock throwing smooth road traffic to haywire.
The foundation of the bridge was laid with much fanfare and all and sundry in the District Administration, NMC Administration and, of course, political parties had promised earliest opening of the Ramjhula for road traffic. But leave alone the opening and the smooth traffic, the completion of construction looks a distant dream as the work of bridge has been abandoned half way. The reasons for such halfhearted development are better known to the concerned authorities.
The former Secretary of Youth Congress Mohd Arif Palla took the initiative and submitted a memorandum to Chief Minister Prithviraj Chavan in this connection. Palla informed the Chief Minister that the Central Nagpur citizens have been taking the maximum brunt following the half-constructed and abandoned Ramjhula over bridge. A big portion of Railway Over Bridge near Poddareshwar Ram Mandir has become dilapidated. For the same reason, the construction of Ramjhula was undertaken. But, the abandoned bridge has proven more problematic than the facility. Palla urged the Chief Minister to take the necessary steps in this connection and rid the citizens of acute problems. The Chief Minister assured Palla of discussions with the concerned authorities in this direction and the construction work of Ramjhula would be started immediately.
The delegation consisted of former Standing Committee Chairman Gani Khan, Dr Shahdad, Kittu Lamba, Arif Gazi, Sayyed Mohd Ali, Salim Ansari, Ahfaz Ansari, Amin Kanchwala, Meraj Sir, Firoz, Tinku Gaur, Sunil Gaur, Sanjay Solanki, Yashwant Parate and others.
It may be mentioned, Congress sees Palla as the Central Nagpur candidate for the Assembly polls as the former MLA Anees Ahmed has strategically distanced from the constituency.