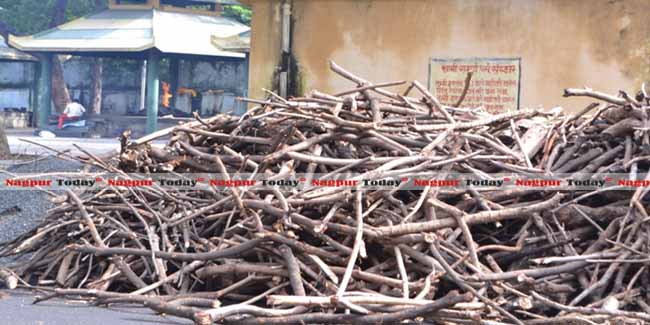 Nagpur News.
The Health Committee of Nagpur Municipal Corporation (NMC) has come down heavily on the concerned authorities and has demanded immediate end to the nasty business being carried out in the NMC-run crematoriums in city.
"The Health Committee has been receiving several complaints from citizens against the dirty state of affairs at the NMC-run crematoriums specifically the Tikekar Ghat (Mokshadham). A donation box has been placed at the crematorium while wood and other material is provided for the last rites free of cost. Even the shawls and other cloths put on the bodies are being sold at the crematorium and outside, too. This nauseating and sickening business must stop immediately and the concerned NMC authorities should initiate firm measures in this connection in order to provide relief to citizens," the Chairman of the Health Committee Ramesh Singare directed in the Committee's meeting held on Friday.
The meeting was also informed of acute shortage of water at the crematoriums. The authorities were directed to contact OCW and ensure adequate water supply to them.
Others who attended the meeting include Deputy Chairperson of Health Committee Sadhana Barde, Senior Corporator Sunil Agarwal, Committee members Dr Prashant Chopda, Arun Dawre, Shrawan Khapekar, Alka Dalal, Deputy Commissioner Sanjay Kakde, Health Officer (M) Dr Savita Meshram, Acting Health Officer (Sanitation) Dr Ashok Urkude, Malaria Officer Dr Savita Dhote, Dr Shyam Shende, Dr S Shinde, Dr Badirwar, Dr Sushma Khandagale, Dr Dipankar Bhivgade, Dr Atiq Khan, Dr Anil Chivane, Dr Vijay Joshi, and Zonal Officers of all the ten Zones.
The meeting reviewed the measures taken to curb dengue fever. The NMC Administration informed the meeting that 468 samples of patients were taken for tests out of which 229 patients were found positive to dengue fever. The Chairman directed the Zone employees to visit houses and create awareness about dengue and ways to curb breeding of mosquitoes. Similarly, get information about dengue patients from private clinics and hospitals, Singare said.
The NMC Administration informed the meeting about shortage of experts and other employees at the NMC-run clinics and hospitals. Similarly, 4 ambulances are in service and around 60-70 patients get benefit on the daily basis. The meeting stressed restarting of mobile clinic services for the benefit slum-dwellers and others. The meeting also stressed upon systematic cleaning of garbage in the areas it was found the contractor Kanak Resources Company was cleaning the areas on preferential manners which is totally unacceptable and the Company must correct the wrong immediately or would face penal action, the meeting asserted.