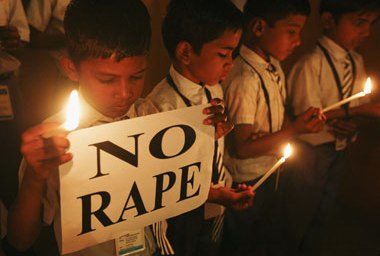 Nagpur News.
Gittikhadan police has arrested a 70-year-old man for allegedly attempt to rape a 7-year-old girl at Rose Colony, Rajaram Society on Friday afternoon. Gopal Kanojia, a resident of Rajaram society, was thrashed by people and handed over to police.
Kanojia owns a small laundary business at home.
According to the minor's statement to police, she had gone to take back clothes given for ironing to Kanojia when he called her inside and tried to rape her. He did indecent acts with her and thus the minor came out crying. A neighbouring woman saw the girl crying and asked her the reason to which the girl narrated the incident. Immediately, the minor's parents were informed and residents rounded-up his house. The residents dragged Kanojia and thrashed him badly till police reached the spot.
People informed that Kanojia's wife, son, daughter-in-law and his grandchildren had hone out of town and he was alone at home when he dared to misbehave with the minor girl. Residents alleged that Kanojia was drunk when he molested the minor. They alleged that earlier also, he has misbehaved with many girls.