NMC's headless 42 schools issue creates a flutter, forces bosses go on weak defence

"The absence of regular Headmasters forces other senior teachers of to take the responsibility of Headmasters. This additional charge not only over burdens the teachers who cannot devote their full time to their basic duty of teaching but also shows a decline in number of students every passing year. There are no headmasters in the NMC's 42 Hindi, Marathi and English primary schools."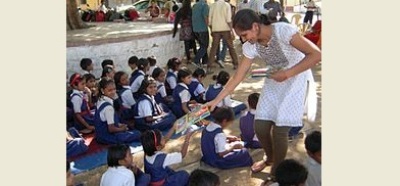 Nagpur News:
The all-important issue of no Headmasters in at least 42 NMC schools created a flutter in the General Body Meeting of the Nagpur Municipal Corporation held on Monday.
The issue was raised by Congress Corporator Abha Pande during the Question Hour. Abha Pande said, "The absence of regular Headmasters forces other senior teachers of to take the responsibility of Headmasters. This additional charge not only over burdens the teachers who cannot devote their full time to their basic duty of teaching but also shows a decline in number of students every passing year. There are no headmasters in the NMC's 42 Hindi, Marathi and English primary schools. Senior teachers in these 42 primary schools are being made Acting Headmasters forcing them to neglect their basic duty of teaching thus hitting the education hard," the Congress Corporator lamented.
However, the NMC Administration in a face saving action replied that an Inspector monitors the Acting Headmasters. Moreover, only those teachers are made Acting Headmasters who wish to be made the Acting Headmasters. No teacher is forced to become an Acting Headmaster. Abha Pande again raised a question as to why the teachers are made Acting Headmasters and not the permanent ones. The NMC Administration replied that promotions are given according to the roster. At present, inspection of the roster is going on. The roster has been sent to the Divisional Commissioner's Office. The BC Cell has amended the roster. When everything will be in place, the promotions would be given.
The BSP Corporator Gautam Patil raised a question. He said that there are three NMC schools in his Ward in which students are in large numbers but lack sufficient teachers. BJP Corporator Jagdish Gwalwanshi surprised everyone in the House by making the Dabha School episode public. Muslim League Corporator Aslam Khan informed the House about a school where the number of students is 887 and has an acute shortage of teachers. The Mayor Anil Sole directed the Administration to take a serious note of issues raised by the Corporators and resolve them.
The House also witnessed an issue of a scam involving Market Department in collection of money in Dhantoli Zone which has gone public. The NMC Administration has made lower rung employees the scapegoats while selectively protecting the higher ups. The Administration, while resorting to protection of top bosses cleverly, highlighted the achievements of NMC revenue after the scam and subsequent action.
Congress Corporator raised the issue of no minimum wages being paid to sweepers and demanded Rs 308 daily wage in accordance with the PWD's Finance Department order. However, the NMC Administration stuck to Rs 220 daily wage to sweepers.