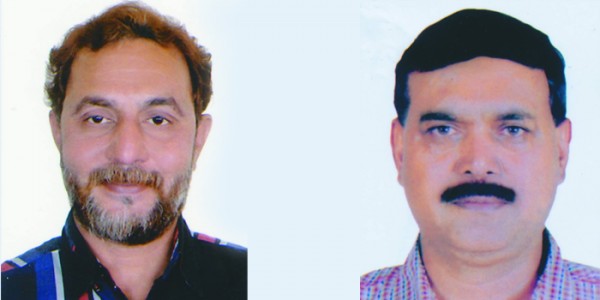 Nagpur News:
Senior journalists Mr Pradip Kumar Maitra (Hindustan Times) and Mr Shirish Borkar (The Hitavada) were re-elected President and General Secretary respectively of the Tilak Patrakar Bhavan Trust for a period of 6 years from 2013 to 2019.
Mr Maitra and Mr Borkar were re-elected to the top posts at a meeting of the Trust held at Tilak Patrakar Bhavan on Monday, August 19, 2013.
Similarly, editor of Lokshahi Varta Mr Vinod Deshmukh was elected Vice-President of the Trust while senior journalist Mr Joseph Rao (PTI) was retained as the Treasurer. Senior journalist Mr Prabhakar Dupare too was re-elected as Joint Secretary of the Trust.
Moreover, senior journalist Mr Arun Phanshikar was nominated as Governing Body member from among the retired Trustees' category.
Earlier, the new Governing Body comprising 12 members, was elected during the Annual General Body Meeting of the Trust on August 15, 2013.
The Trustees who registered a landslide victory during the Governing Body election included Mr Pradip Kumar Maitra, Mr Shirish Borkar, Mr Vinod Deshmukh, Mr Joseph Rao, Mr Bramhashankar Tripathi of Lokmat Times, Mr Prabhakar Dupare, Mr Vivek Puradbhat of Indian Express, senior journalist Mr Vishwas Indurkar, Mr Mahesh Updeo of Saamna, Mr Ramakant Dani of Divya Marathi, Mr Jaideep Hardikar of Telegraph and Mr Suhas Nayse of The Times of India.
Senior journalist Mr Ganesh Shirole of Sakaal and senior journalist Mr Chandrakant Anekar efficiently handled the responsibility as Chief Election Officer and assistant CEO respectively.