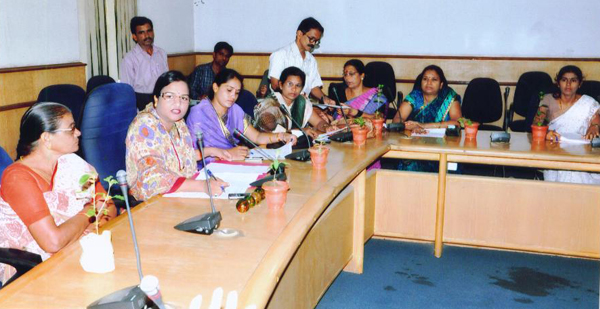 Nagpur News: Nagpur Municipal Corporation's (NMC) Women and Children Welfare Committee held its first review meeting presided over by the Chairperson of the Committee Ashvini Jichkar.
"The Maharashtra Government has initiated several schemes for betterment of women. However, many of the Committee members are not aware of the schemes. Therefore, the Committee be immediately apprised of the state government schemes so that the it could work smoothly towards uplifting of women in various fields," Jichkar said and directed the Social Department to take steps in this direction.
The review meeting was attended by Deputy Chairperson of the Committee Sangita Kalamkar, Committee members Prabhatai Jagnade, Usha Nishitkar, Bhavna Dhakne, Saroj Bahadure, Vidya Lonare, Malu Wanve, Sujata Kombade, Seema Raut, Social Welfare Officer Sudha Iraskar, Health Officer (M) Savita Meshram, Education Officer (Primary) Mangala Chavan, Medical Officer Dr Atik Khan, Assistant Superintendent Karade and others.
At the outset, Social Welfare Officer Sudha Iraskar welcomed the newly elected Chairperson of the Committee Aswini Jichkar, Deputy Chirperson Sangita Kalamkar, and members of the Committee and offered them Tulsi saplings. Thereafter, the Chairperson of the Committee was informed about the various schemes run by the Women and Children Welfare Department.
Social Welfare Officer Sudha Iraskar informed the meeting that the departments of Women and Child Welfare and Women Welfare have been providing life insurance through Krantijyoti Savitribai Fule Insurance Scheme for girls and women in the age group of 10-75 years. The APL group of women are being given vocational training through Women Self Employment Scheme. Accordingly, 20 women from each Ward have been given Self Employment training in order to make them self-sufficient. Similarly, through the late Anusayabai Kale Memorial Samupadeshan Centre to resolve family disputes and to protect women and children from exploitation the NMC has started 10 Samupadeshan Centres in 10 Zones. The women in financially weaker sections of society are being provided the competitive training to give them chance to succeed in UPSC and MPSC examinations.
MAHILA SWAYAMSURAKSHA YOJNA: NMC will organize programmes for women's self-dependence. A get-together of women entrepreneurs will be organized in order to provide employment opportunities to women of the weaker sections.
LADLI LAXMI YOJNA: Through this scheme the girls born after June 6 2012 would be insured subject their parents are in BPL category. The girls would be given Rs 1,24,000 when they attain 21 years of age for their safe future. The Muslim girls will be provided computer training through Abdul Kalam Computer Training and Employment Programme.  Similarly, NMC will organize various programmes on March 8 to celebrate International Women's Day.
Dr Meshram informed that Janani Suraksha Express would be kept ready during pregnancy time for carrying the pregnant women. The women will have to dial 102 to avail this facility.
JANANI SHISHU PROGRAMME: The NMC will provide nutritious food to those women who have been admitted for pregnancy in the NMC hospitals, Dr Meshram said.