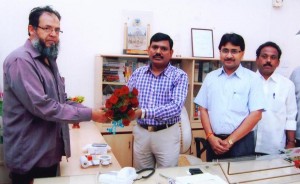 Nagpur Today:
"Everyone will not get everything". This is the way of life. But the Nagpur Municipal Corporation's (NMC) Additional Commissioner Hemant Pawar thinks otherwise. He has demanded his transfer from NMC on the ground that he has not been allotted work of his choice. Whimsical!! Just to say!!
It may be mentioned that Pawar has been in the headlines for one or other controversies from the Day One when he joined NMC. Fed up with a horde of complaints from public for resolving their problems he has failed to get on the terms and condition of working in the NMC. He even discussed his desperation with some of old colleagues. He made his intention for transfer before Holi festival. Now, Pawar is hoping for his transfer to other office of his choice when regular transfers take place. He has shared this to one of his close friends.
Most important and surprising fact is that although Pawar is not of an IAS cadre, NMC, looking to his seniority in the Maharashtra Government service, honoured him with IAS post reserved for an IAS officer.  When Pawar joined NMC, the chamber of Additional Deputy Commissioner's chamber was vacated for him. But immediately on second when he joined NMC he was promoted to the post of Additional Commissioner's post. However, the Maharashtra Government's GR says that only direct IAS officers or promotee IAS officers can be appointed as Commissioner or Additional Commissioner of NMC. The present Commissioner is promotee IAS officer.
Maharashtra Government in March promoted 32 senior officers as promotee IAS officers. But Pawar did not find his name in the list. Now, the question is on what ground Pawar was given the post only reserved for an IAS officer.? If anybody visits NMC office one can see a huge mob of contractors lined up to meet him for obvious reasons.
RAUT TO FACE ACTION?: Nehru Nagar Zone Ward Officer Harish Raut, who allegedly demanded bribe is likely to face action. Medical Zone Corporator Guddu Tiwari had lodged a complaint against  Raut wherein he stated that Raut demanded bribe for reducing property tax. However, Pawar has asserted that Tiwari has failed to give any concrete proof on Raut's demand for bribe. Tiwari has also lodged a complaint stating Raut has misused his post and powers for some benefits. This complaint may put Raut in a spot since Tiwari is mounting pressure and also said that he would approach courts if higher authorities failed to take action against Raut.
Meanwhile, authorities are considering to transfer Raut to General Administration Department and initiate departmental enquiry.
VACANCIES: A huge number of vacancies are not being filled up by NMC leading to some employees are forced to carry out additional works of others while some of the employees are "enjoying" by remaining in the same department years together and reaping "benefits". If these employees are transferred to another departments the higher authorities think that NMC will incur losses. The higher authorities even don't know how many posts are reserved for State Government employees.