Nagpur: Several written complaints made by Chandrashekhar Balkrishna Kamble to the Municipal Commissioner Sanjeev Jaiswal, Additional Commissioner, to Assistant Commissioner Ganesh Rathod, Corporator of Prabha 33 have fallen on deaf ears and gone to dustbins regarding a illegal construction on Municipal coporation's land .
One Suraj Dnyneshwar Belekar has been constructing a two storeyed house illegally on Municipal Corporations land which is near the nullah and house is being constructed on the Sewerage line and gutter tank in Prabhag 33, Trisharan chowk, behind Ambedkar statue. The gutter line was constructed just 14 years back when Sumitra Ashok Jadhav was the corporator and now on it the house is being constructed but still no one is taking any action.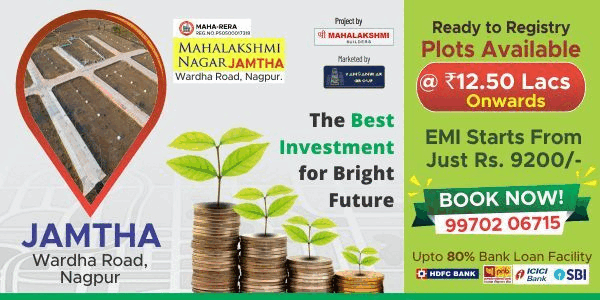 It may be mentioned, the anti-social elements set up the illegal shanties on Municipal land earlier the shanties were razed but once again they came up.
Chandrashekhar Kamble has said that Belekar was staying in a shanty with two rooms now the same person has usurped Municipal land and is constructing double storey building. Municipal Corpration has not given any pattas of land to anyone, there are no legal documents too. But still the anti-social elements are forcibly constructing hutments. These illegal structure have become problem for Kamble and others. He said that construction has become a headache for them because just next to his compound wall this construction is going on. He has expressed that any untoward incident taking will affect others as well as his family also. Flouting all the rules and regulation this house is being constructed.
Kamble has said that there is possibilty of gutter line getting choked because of the sand metal and concrete. If this happens then various diseases will spread. Already the gutter line is choking. When the people tried to tell the owner he was very arrogant and tried to beat the people and abuse them and masde false complaint against them in Ajni police station, it is alleged.
Kamble stated that after he had complained to the Municipal Corporation Dhantoli Zone 4 against Belekar, soon after that when he was not at home. Belekar with the help of hooligans made a life threatening attack abused his father and the persons at home. Kamble lodged a complaint with Ajni police but the police did not take any action.
Chandrashekhar Kamble has handed over a memorandum to Chief Minister Devendra Fadnavis to take action against this. He has sent copies of written complaint to Municipal Commissioner, Assistant Commissioner Ganesh Rathod, Health Department, NMC, Town Planning Deptt, Fire Deptt, Slum Deptt Public Deptt, NMC, Deputy Commissioner, Additional Commissioner, Guardian Minister Chandrashekar Bawankukle, Housing Ministry, Publioc Works Ministry, Chief Secretary, Town Development Secretary, Town planning Ministry Chief Secretary, General Administration, Minstry, MP Nitin Gadkari. He has urged all to take immediate action.
According to Assistant Commissioner Ganesh Rathod non-complaint's house and land is in non-notified slum and so action cannot be taken. But according to the Slum Act 1971 (MRTP Act) section 53 and 54 Assistant Commissioner has the power to demolish the illegal construction.
According to State Gazette May 2, 2014 in first main act's section 3 sub section 1, it is necessary to take the permission of Commissioner for the plans of construction after 2000 year. if permission is not taken for the construction it will be termed as illegal structure and will be demolished. Though it is clearly stated yet the commissioner is not taking action, it is alleged.
BSP delegation, Corporator Standing Committee member of the Committee Weak Jeetendra Ghodeshwar has said that in coming NMC meeting he would raise this issue and demand dismisal of offcial not taking action.