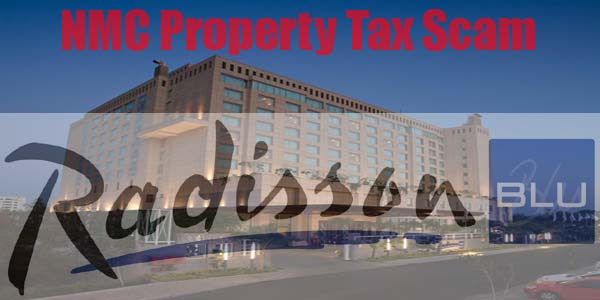 Nagpur News: Now it's the mother of all blunders, or say, scam in Nagpur Municipal Corporation. A new game of causing revenue loss to the tune of lakhs of rupees to the NMC exchequer is being played by the officials in their own smart way. It has been unearthed that NMC officials have put a large number of commercial establishments in Nagpur under residential head, thus bringing their property taxes at surprisingly low level.
The scam is alarming at a time when NMC is reeling under severe financial crunch owing to the implementation of Local Body Tax which left the corporation running short of funds to pay up its employees' salary.
In most of the cases the tax being collected from the commercial establishments was found to be far below what is recovered from any residential property. More recent is the case of Hotel Radisson Blu – a 5 star commercial property that runs its sprawling facility on Wardha Road. It has come to light that the hotel has been cannily put under residential property and the tax is being recovered accordingly. A notorious nexus of NMC officials and the said property owners are reportedly working out the theory for this illegal game. Sources believe that NMC officials have made conscious efforts to connive with many of the commercial properties and received large kickbacks for putting them under residential units.
In an RTI query filed by an NGO People Against Corruption led by Sanjay Agrawal, it was inquired from NMC about the tax being collected from Hotel Radisson Blu. In the reply to the query it is learnt that besides a heavy amount of tax outstanding on the hotel, it has also been put under residential property. The tax receipts, the copy of which is in possession with Nagpur Today clearly show that the Hotel being run by Besteck Hospitality Pvt. Ltd. is categorized as the property for residential use. This information was given by NMC, Dhantoli Zonal office in response to the said RTI application. The said hotel falls in 5 star category. The property is erected on 1.28 lakh sq.ft. of area while the annual property tax incurred on it is just Rs. 2.58 lakh per annum. "A normal residential unit of 900 sq ft has to cough up over Rs 12,000 as property tax and how come such a large commercial unit is liable to pay petty tax is beyond our understanding," said Agrawal. He said he has also written to Municipal
Commissioner in this regard and demanded strict action against the erring officials.
When Nagpur Today contacted NMC Commissioner Shyam Wardhane in this regard, he expressed ignorance over the said matter asking the correspondent to fax the copy of receipt at his number. He said, "If I would fetch the receipts from the official record the subordinating officials would try to cover up the blunder by making corrections. I need the copy so that I may immediately swing into action against the guilty official."
Accordingly,  Nagpur Today got the tax receipts of Hotel Radisson Blu faxed at the number given by the commissioner.
Wardhane also informed that he had recently conducted a surprise check on various commercials establishments and found it being shown as residential property. He had also initiated action against the erring officials.
NMC standing Committee Chief Avinash Thakre told Nagpur Today that the matter has also come to their knowledge and the further inquiry in being done. He said,"Our NMC officials are certainly responsible for the goof up and whosoever is responsible would be punished."
Nagpur Today tried to speak to the hotel authorities but they did not come up with their comment. All efforts to contact them failed.