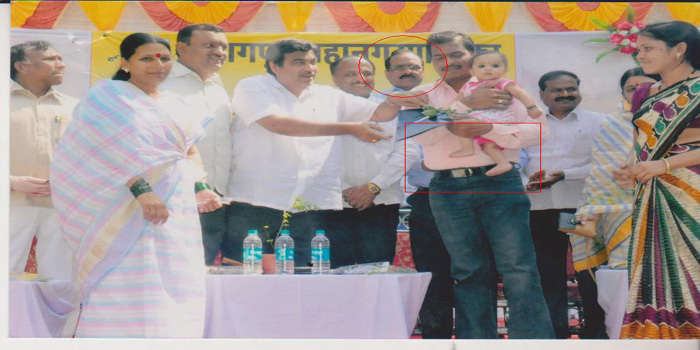 Nagpur News : The incharge PRO of Nagpur Municipal Corporation comes up every new gimmick to grab the credit but end up in creating blunder. After depicting a dead journalist as still living in NMC's information booklet, Kolhatkar did it again. This time he tampered with the photograph of NMC Commissioner in order to show him as a part of group photo of an event. Kolhatkar performed the tactic in anticipation of appreciation from his seniors.
The story goes like this. On Wednesday morning NMC launched a Ladli Lakshmi insurance scheme in a programme in which senior BJP leader arrived as the chief guest. The parents of 'ladli lakshmi' a girl child were felicitated by Gadkari on the stage.
The event being photographed for passing it out the media, but NMC Commissioner Shyam Wardhane was found hidden in every picture that was shot.
When the photos sans face of Wardhane came to incharge PRO Kolhatkar, he directed the photographer to cut and paste the face of commissioner so as to include him in the picture. And the cameraperson did the trick.
The face was cropped and pasted just between Mayor Anil Sole and the felicitation guest.
When a scribe wondered on 'suddenly increased height' of Shyam Wardhane in the photo he was quick to ask how Wardhane appears taller than what he actually is. But his query could not be quenched.
Sources reveal that Kolhatkar was worrying that if Wardhane had found him missing in the photo he would have pulled him up. Hence Kolhatkar did the gimmick to play it safe and remain in the good books of Wardhane.