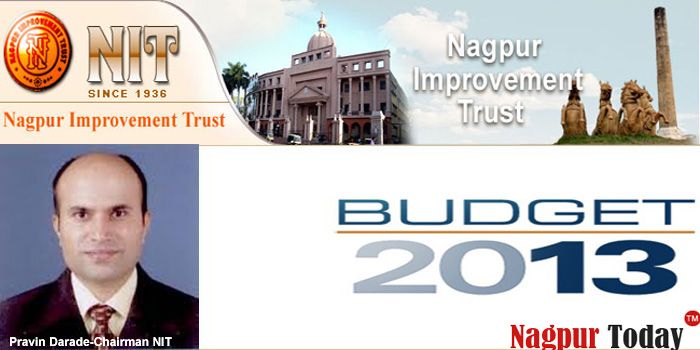 Nagpur News: The ambitious metro rail project in Nagpur along with the development of newly designated metro region prompted Nagpur Improvement Trust to double up its budget for the year 2013-14.
On Wednesday, NIT Chairman Praveen Darade presented a whopping budget of Rs 748.01 crore for the ensuing financial year. However the amended budget for 2012-13 is of Rs 342.56 crore. In the proposed budget NIT has aimed at execution of over eight mega projects on Public-Private Partnership (PPP) basis. It may be mentioned that onus to develop metro region lies on NIT.
Halcrow, the company chosen for providing blue print for metro region would be submitting its detailed report to NIT in four months.
Nagpur metro region clubs entire five tehsils and parts of four other tehsils in the district. Around 726 villages fall under metro region spread in 3577 sq. km. NIT has already picked up the development in 9.58 sq km covering Khadka, Kirmiti, Shivmadka, Sumthana and Panjri villages of Hingna tehsil.
Six improvement areas have been earmarked under metro region. This comprises 6,000 hectare area that would see logistics, ware house, residential and commercial layouts. NIT garnered revenue of Rs 40 crore from metro region areas.
Darade informed that NIT aims at planned development in metro region. The budget has gone almost double as compared to what it was the previous year as the metro region development along with metro rail and other development projects led to the inflated costs, he said.
Darade presented the budget in the presence of NMC Commissioner Shyam Wardhane, District Collector Saurabh Rao, trustee and MLA Dinanath Padole, Dr Ravindra Bhoyar, Anant Gharad, Kishore Kanhere and others.
Projects to come up on PPP basis
– Club house at Sakkardar, Playground at Juna Subedar
– School buildings at Nari and Chikhli
– Vegetable market and Housing project at Indora and Bidipeth.
– Commercial complex at Gokulpeth market.
– Multilevel Parking project at CA road.
– Rest house at Wardhaman Nagar
– Sports complex on Umrer road
– Club house at Binaki