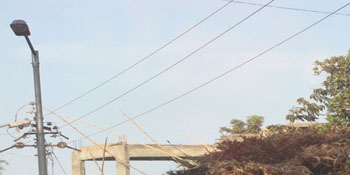 Nagpur News : The entire north side of Nagpur is without proper street lights. Where the streets are becoming broader the lights seem to get narrower. There hasn't been any attention paid by the NMC towards this side.
This kind of situation causes danger for travelers commuting in those areas. The areas that haven't got any street lights on are Itarsi police square, Byramji town,  Chhaoni square, Jaripatka Ring Road, Kamptee Road, Janta hospital at Jaripatka,  Indora square,  Bezanbagh, Guru Nanak School.
Apart from the non functional street lights there is even garbage around these areas which makes commuting even more difficult. Around the Mahdi bagh colony is totally covered with darkness and if you happen to come from Itwari side towards Rani Durgavati road and even towards Kamptee road there are several potholes welcoming the travelers.
The most dangerous area is at Panchpaoli flyover which has around 60 street lights and multiple potholes and out of these 60 lights only a hand few of them work properly. This area is used by many travelers and so it becomes difficult to travel at night.
There have been repeated request sent to the NMC regarding this matter but no further action is taken place in the matter.