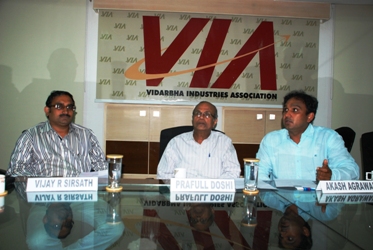 Nagpur Business News: The new Procurement Policy would help support MSME sector which is vulnerable to market fluctuations said Vijay Sirsath while speaking  at VIA Hall this evening.
Vijay Sirsath Deputy Director [Mech] MSME Nagpur was making a presentation on "Awareness on Public Procurement Policy" in a programme organized by VIA for the benefit of members and SME 's of the region.
Elaborating on the subject Sirsath said that as per the Public Procurement Policy all central ministries and public sector units have to purchase 20 percent of their total annual purchases from MSME Sector. This was a long time demand of Industries to ensure support to MSMEs and the Government has reacted positively and now 20% of Public procurement must be from MSME Sector.
He added that MSME sector is capable of high quality production good enough for purchase by the Government. Given the fact that Indian MSMEs have already proven their capability by accounting or 40% of all exports this policy measure endorses this fact strongly and loudly he said. Further, the policy shall help and facilitate backward and socially weak entrepreneurs get a foot hold in the procurement process by the Government and PSUs.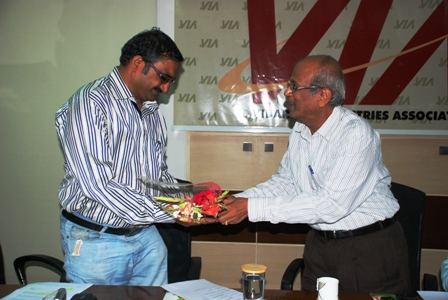 He said that the policy would help MSMEs to overcome the marketing constraints which was deterrent in realizing their full potential. The new policy would also help create new entrepreneurs who would be more confident in gaining market access for their products. Sirsath added that a sub total of 4 percent out of 20 percent will be set aside for SC/ST segment which would bring the socially disadvantaged classes into the mainstream and encourage them to set up businesses in their area of expertise,
Further Vendor Development programmes at State and National levels will be organized in order to introduce MSMEs to Public sector. The first such vendor meet is being organized at Nagpur in December 2012 he said.
Earlier Prafull Doshi President in his address said that such preferential procurement policy exists in many countries like Australia, China EU, UK ans USA for small businesses and now India also joins the league. He only hoped that the policy is implemented in the right spirit in which it has been announced so that the public sector which at present procures mere 4-5 percent from the segment could enhance their purchases from this sector and thereby create a new chapter in Public Private Partnership. Akash Agrawal Secretary conducted the proceedings and introduced the speaker.