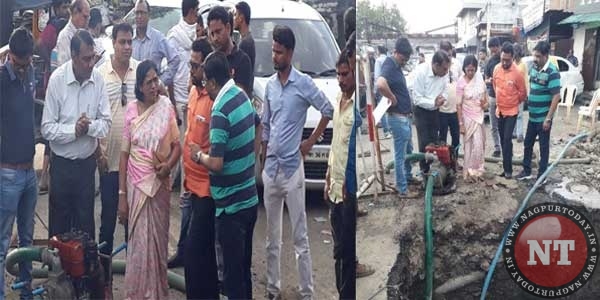 Nagpur: 11 months of 24×7 hard work, 600 mm dia pipeline, 1.65km of digging- excavation, then proper restoration of the road work on the densely con jested,traffic oriented Craddok Road (Golibaar Square to Motibagh RuB) finally came to an perfect-end when NMC-OCW dedicated technical & safety team added one more feather in its cap by charging and dedicating to public of newly laid pipeline – Boriyapura Feeder Main –on Sunday, July 1.
It may be mentioned here, in a bid to remove perineal water contamination issues from densely populated Mominpura, Timki, Boriyapura area, NMC –OCW has recently laid an approx. 1.5 km, 600 mm dia pipeline, commonly known as Boriyapura Feeder by replacing age old dilapidated, damaged existing pipeline- root cause for the contaminated water supply in these areas.
On June 30 the Boriyapura Feeder Pipe Line was interconnected at 2 locations. Though, Nagpur Municipal Corporation and Orange City Water (OCW) had announced 24 Hrs. shutdown of Boriyapura Feeder Main, however with its technical expertise NMC-OCW completed all technical work in 12-hours only.
NMC-OCW had announced a 24 hour shut down interconnection work. Considering the quantum of work involved in the repair the time was fairly estimated. But with the technical expertise that OCW possesses and with the thoughtful efforts of OCW's team work completed in duration of 12 hours, just like the pipeline laying work.
On June 30, Mayor Nandataai Jichkar, Deputy Mayor Deepraj Pardikar, WSC Chairman Pintoo Zalke, ED NESL, Mr Sanjay Gaikwad alongwith OCW CEO, Mr Sanjoy Roy & Deputy Director Mr Rajesh Kalra visited the interconnection spot and reviewed the pipeline laying work at Motibagh RuB junction. NMC-OCW thanked people from Mominpura area, Timki, Golibaar square for their whole hearted support as well co-operation along with all public representatives like Mrs Asha Uikey, Mrs Saiyyada Ansari, Mrs Zeesha Mumtaz , Mr Zulfikar Bhutto and Mr Ramesh Punekar.
It was estimated that the 600 mm dia pipeline laying work on the Craddok Road will require almost 12 months to complete, however under the leadership of OCW CEO Mr Sanjoy Roy, OCW team put up its hard efforts FOR almost 11 months and laid 600 mm dia MS pipeline that is passing from Motibagh RuB, to Pahalwan Square, Monimpura Square, Gupta Atta Chakki, Timki to Golibaar Square and that too 1.5 meter (6 feet) below ground level. Lot of hurdles came in between like a patch of 500 meter with full hard rock, that took many months to dig and then lay pipeline.
However NMC- OCW technical team under supervision of CEO Mr Sanjoy Roy & Deputy Director (O & M) Mr Rajesh Kalra worked hard to bring the success.
If required, then special Tankers will be kept at Boriyapura area to provide water supply to residents. In case of water supply issues raised after or during the 24-hour shutdown work, consumer can immediately contact at NMC-OCW Helpline Number at 1800-266-9899, immediate help will be provided. The inconvenience caused in water supply due to such interconnection work is highly regretted. Consumers are requested to store sufficient water for their use..
The inconvenience caused in water supply due to interconnection work as well during 11 months of pipeline laying work is highly regretted. Information related with water supply or any complaints can be had from OCW's 24×7 Toll Free Helpline at 1800-266-9899 in case of any employee related complaint can be passed on OCW CGRC at 7280903636.